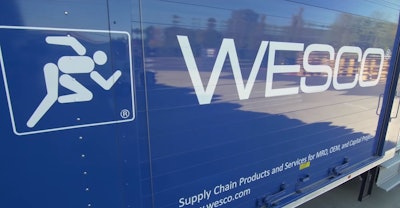 Pittsburgh-based WESCO International announced Tuesday that senior vice president and CFO Kenneth Parks has tendered his resignation, effective May 31.
Parks has accepted the position of CFO at pharmaceutical company Mylan, effective June 6. Parks replaces John Sheehan, who retired from Mylan effective April 1. Mylan is headquartered in Canonsburg, PA, just a few miles south of WESCO's Pittsburgh headquarters.
Parks has been CFO at WESCO since June 2012 and a senior vice president since January 2014.
WESCO said Parks will assist in transitional matters until his departure, at which time vice president and corporate controller Tim Hibbard will serve as interim CEO while a search process is conducted for a permanent CFO.
"We thank Ken for his strong contributions to WESCO over the past four years and wish him all the best in the future," said WESCO chairman, president and CEO John Engel in a statement.
"Mylan's dynamic business and unique culture, strong track record of growth and value-creation, and exciting outlook for the future make this an exceptional opportunity," said Parks in a release press from Mylan. "I look forward to joining Mylan's leadership team and working with Mylan's experienced finance organization to bring value to the organization and contribute to its future success in providing the world's population with access to high quality medicine."
WESCO — No. 6 on Industrial Distribution's 2015 Big 50 List — reported its 2016 first quarter fiscal performance on April 28, led by a total sales decline 2.2 percent year-over-year and down 4.3 percent from Q4. Organic sales declined 6.7 percent, while total Q1 profit was down 23.4 percent year-over-year and down 26.2 percent from Q4.