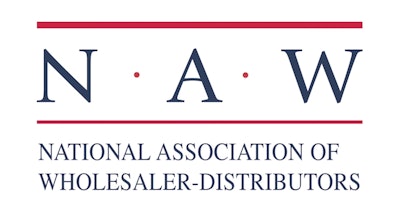 Richard W. Schwartz, chairman of Winsupply, has been elected Chairman of the National Association of Wholesaler-Distributors (NAW) Board of Directors. His election came during the during the association's recent Executive Summit in Washington, DC.
Mr. Schwartz succeeds Manuel Perez de la Mesa, President and CEO of Pool Corporation, headquartered in Covington, Louisiana. Mr. Perez de la Mesa will remain active on the NAW Board as Immediate Past Chairman.
Winsupply, a supplier of residential and commercial construction products and industrial supplies and materials is headquartered in Dayton, Ohio. It was No. 15 on Industrial Distribution's 2015 Big 50 List.
Winsupply is also a member of the American Supply Association; Heating, Airconditioning & Refrigeration Distributors International (HARDI), the Irrigation Association, the National Association of Electrical Distributors, and the Water & Sewer Distributors of America.
John Tracy of Dot Foods of Dot Foods in Chesterfield, MO was elected NAW's Chairman-Elect while Joseph C. Nettemeyer of the Valin Corporation, San Jose, CA is now the group's vice chairman.
NAW's Second Vice Chairman is George Pattee of Parksite Inc. (Batavia, IL).
Parksite Inc. is also a member of the North American Wholesale Lumber Association Inc. and the North American Building Material Distribution Association.
NAW comprises individual wholesale distribution firms and a federation of national, regional, state, and local associations and their members, which collectively total more than 30,000 companies. NAW represents the $5.40-trillion merchant wholesale distribution industry, which moves to market virtually every kind of product in the U.S. economy and employs 5.8 million people.