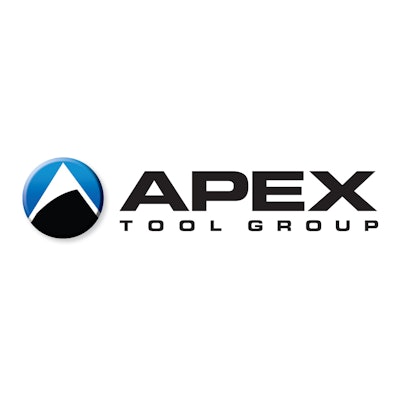 SPARKS, Md. — Apex Tool Group, a global provider of industrial hand and power tools, on Monday announced the appointment of experienced tool industry executive James J. Roberts as Chief Executive Officer of Apex Tool Group and a member of the Board of Directors. Thomas Wroe, Jr., current CEO and Chairman of the Board, will continue to serve on the Board of Directors as Executive Chairman.
Roberts, 57, joins Apex Tool Group effective February 8, 2016 after five years as the CEO of The Chamberlain Group, a leading provider of access control solutions serving industrial, commercial, automotive and consumer markets worldwide
Wroe, a 40-year veteran of Texas Instruments and former Chairman and CEO of Sensata Technologies, came out of retirement in September 2013 to join Apex Tool Group's Board as Chairman, and subsequently became CEO in October, 2014.
"As we planned for succession, Jim emerged as a proven CEO with deep tool industry knowledge and leadership capability," Wroe said. "My goal was to help bring strategic focus to the business while accelerating our journey to become a growth-oriented, high performance organization. We've made strong progress towards becoming a more profitable, best cost, sustainable enterprise with a bright future ahead. Jim brings tremendous focus on the customer, strong experience in product and brand management, and has run similar businesses. I'm excited to be working with Jim and believe he's the right leader to take Apex to the next level."
Roberts brings more than two decades of tool industry experience to Apex Tool Group. He held several senior executive positions at Newell-Rubbermaid, including leading its IRWIN Tools & Hardware segment. Previously, Roberts was President of Worldwide Hand Tools and Hardware at The Stanley Works. Prior to that, he spent 19 years at Black & Decker including serving as President of Worldwide Accessories. He serves on the Board of Directors of Culligan International.
"I am excited about joining this dynamic global company, and working closely with Tom and the management team," said Roberts. "Apex Tool Group has strong market share, great brands, global positioning and a world-class operating platform. I want to thank Tom for his leadership and accomplishments. I appreciate his tremendous drive for results, sense of urgency, commitment to creating value for our shareholders, and supporting the efforts of our nearly 8,000 associates around the world. I welcome his continued guidance and contributions as our Executive Chairman."