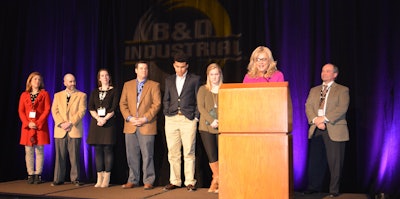 MACON, GA — With a room of more than 200 colleagues, industry suppliers and partners standing in ovation, the 2015 John D. Nations Award, B&D Industrial's most prestigious award, was presented in memoriam to Steve Shelton at the company's recent sales meeting in Stone Mountain, Georgia. This year's award was especially reflective as audience members remembered the late Steve Shelton for his dynamic and encouraging personality along with his exceptional ability to inspire others.
Steve served as the vice president of B&D Industrial and had been a member of the B&D team for 28 years. Steve's wife Deborah and two children, Jason and Sara, accepted the award on Steve's behalf. During her touching acceptance speech, Deborah spoke of the special friendships that Steve had at B&D, and the enjoyment he felt working alongside the team every day.
B&D Industrial CEO Andy Nations also reflected on Steve's contributions to the company. "One trait that my Dad and Steve shared, other than a love for Georgia Tech and B&D, was a passion for wanting others to succeed and helping them in any way they could," Andy, also the son of John Nations, said. "I know my Dad was proud of Steve's successes and would be so proud of his being recognized this way by fellow employees."
The coworkers who nominated Steve for the award underscored the friendships and admiration Steve inspired among his fellow employees. Throughout the submissions, friends and colleagues expressed both professional and personal admiration for Steve, noting his love of the job, his family, and the company itself.
"Steve's optimism and passion for our business and our people was something to behold. He loved getting to know new employees, customers, and suppliers and he genuinely invested the time to do so. I feel blessed to have had the opportunity to work with Steve," wrote one coworker, a sentiment echoed by others.
"Steve Shelton was such a gift to all of us. He was a great mentor in how to speak your mind but remain respectful; how to keep educating yourself and sharpening your mind yet remain relatable; how to move fast but always make time for others; and how to approach life with a smile, a wink, and a hearty laugh. We all wonder why he had to leave us so suddenly, but surely heaven is a brighter place with him in it."
"I can't remember ever seeing Steve down for more than an hour. There were times he would be frustrated about circumstances, but that was only for a brief time for him to develop a strategy to overcome the problem."
The John D. Nations award, named after the company's founder, is B&D Industrial's highest honor and the selection process is very meticulous. The recipient must represent the award criteria which includes integrity, fairness, strong work ethic, dedication to customer service, leadership, vision, commitment to excellence, generosity and loyal years of service. The winner must be selected by unanimous vote of B&D Industrial family members.
B&D Industrial will be making a contribution to a charity of the family's choosing in the near future.