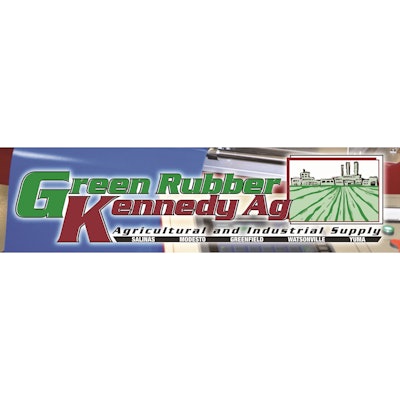 SALINAS, CA — Green Rubber-Kennedy Ag has announced that Steve Gulick will be assuming responsibilities as Sales Manager. Gulick is a 20-year, trusted member of the Green Rubber-Kennedy Ag family, who has significant experience in outside and inside sales. Steve will be transitioning out of his current position as Purchasing Manager.
"We believe Steve's experience and extensive knowledge of the people, products, systems, and culture of the company will give him a significant advantage in filling a big void in our organization, and will contribute to our growth initiatives in the future," the company said.
Green Rubber-Kennedy Ag is a Salinas, CA-based company, specializing in distribution and fabrication of lightweight food-grade conveyor belting and related products, as well as full-line industrial products ranging from hose products to agricultural spray and fertilizer equipment. Green Rubber-Kennedy Ag is celebrating our 25th year of business supplying products and services to the food processing and agricultural industry.
Green Rubber-Kennedy Ag was featured in Industrial Distribution's 2016 Watch List in its January/February issue.