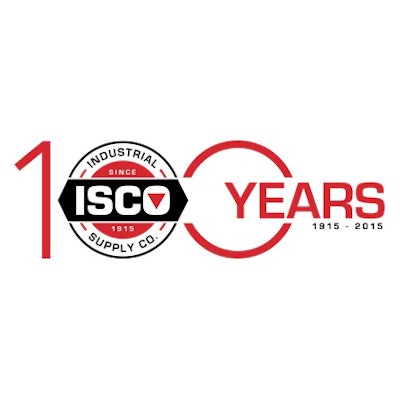 Terre Haute, Indiana-based Industrial Supply Company (ISCO) has weathered depression, war and an evolving industrial landscape to achieve 100 years of growth and service.
Founded in Brazil, Indiana, in October 1915 as a supply house for the area's coal mines and clay brick and tile factories, the fifth-generation, family-owned company today supports a variety of customers with thousands of vital parts and supplies from its main location in Terre Haute and branches in Danville, Illinois; Plainville, Connecticut; and Madison, Indiana.
Industrial Supply is a general line distributor of abrasives and cutting tools; carbide products; hand and electric tools; miscellaneous industrial supplies; personal protection and safety supplies, jan/san products; pipe, valves and fittings; industrial and water works supplies; and plumbing fixtures, parts and accessories.
The company will celebrate with a customer appreciation day and open house at all four of its branches on its anniversary, Oct. 22. The event will include demonstrations of the quality brands it represents. Customers and community members are encouraged to contact their local branch for more information.
Historically Family Owned
Two of Industrial Supply's founders were principal stockholder MacMillan H. Johnson Sr. and his son-in-law Harley R. Ireland Sr. In 1931, Harley Sr.'s son, Harley R. Ireland III, joined the company. He was followed by his son, Donald M. Ireland, in 1977. Don became president after the passing of his father in 2005.
Today, Don's sons, Jason Ireland and Tristan Ireland, are gaining experience to become the fifth generation of leadership at Industrial Supply. More information about ISCO's history and its products can be found at www.ind-supply.com.
Cautiously Taking Risks
Company President Don Ireland maintains that ISCO's success has always resided in the ability of its leadership to evaluate the industry and take well-calculated risks. Just four years after the company's founding, its leadership capitalized on the opportunity to expand to nearby Terre Haute, then known as the "Crossroads of America," transferring the main office and warehouse to property leased from the Bader Hotel.
Business growth in the larger city prompted the expansion of ISCO's product offering. During World War II, with industry booming in Terre Haute, ISCO again saw the opportunity to expand. To meet growing warehousing needs, it purchased and extensively remodeled the hotel structure it had occupied since its move to Terre Haute.
In 1966, the company built an adjacent warehouse, more than doubling its Terre Haute warehousing capacity. With continued growth, ISCO expanded its operations with a branch in Danville, Illinois, in 1998, a branch in Plainville, Connecticut, in 2006 and one in Madison, Indiana, in 2007.
Sharply Focused on Relationships
ISCO has worked hard to develop a portfolio of brands that is second to none in the industry, and its supplier partnerships have enabled it to distribute those brands efficiently and economically.
Don defines ISCO as customer-centric, explaining, "Our organization is designed to help our customers make higher profits, either by improving productivity or lowering costs. We all continue to learn about new products, processes, technology and methods, so we can be current and more relevant. We're striving to make our customer relationships mutually beneficial over the long haul."
Across its markets, ISCO supplies manufacturers, municipal utilities, universities, mining operations, mechanical and residential contractors, hospitals, school corporations, plumbers, military bases and machine shops throughout the Midwest. An online store is in development to serve customers in all markets.
ISCO has built a tradition of community relationships as well, actively supporting civic and charitable organizations that assist people in need, youth, the arts, education and healthcare. It also participates in a co-op program with Indiana State University that allows business and technology students to gain work-related experience in the computer field.
Confidently Looking to the Future

Working to remain competitive with the big box stores and better serve their customers, Jason looks for the company to expand through the development of its ordering website, and Tristan anticipates continued company growth through geographic expansion, with the addition of branches in both northern and southern Indiana.
The company is quick to attribute its success to its employees. Don said, "ISCO works because our employees care about what they do and the people they serve, treating each customer with respect and developing strong supplier partnerships. This is the way we've done it for 100 years, and this is the way it will be done for the next 100."