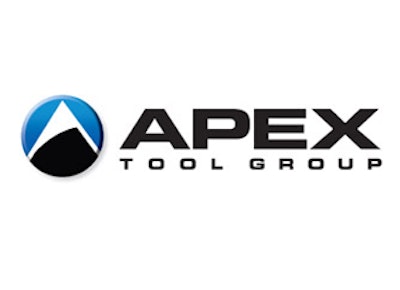 SPARKS, Md. — Apex Tool Group, LLC, a producer of industrial hand and power tools, announced Thursday that Thomas Wroe, Jr., current Chairman of the Board and a highly experienced leader of global industrial companies, will assume the additional role of CEO. He succeeds Steve Breitzka, who is stepping down to begin the next phase in his career.
Headquartered in Sparks, Maryland, Apex Tool Group is one of the largest worldwide producers of industrial hand and power tools, tool storage, drill chucks, chain, and electronic soldering products. Apex Tool Group, directly and through its subsidiaries, serves a multitude of global markets, including automotive, aerospace, electronics, energy, hardware, industrial, and consumer retail. The company markets its portfolio of diverse products under its own brand names in addition to being the principal manufacturer for several key private label products for certain retailers.
"Steve has made important contributions to the progress at Apex Tool Group and its predecessor companies, and we are grateful for his dedication to the business," said Seth Meisel, a member of the Apex Tool Group Board of Directors and a Managing Director at Bain Capital. "He has worked tirelessly the last four years to establish the business as a standalone entity and to build a solid platform for future growth."
Wroe previously served as CEO of Sensata Technologies, a $2 billion-plus global sensing and protection solutions industrial manufacturer, where he remains Chairman of the Board. He led the management team that grew the business both organically and through acquisitions, achieved strong customer partnerships, and led Sensata to realize a successful public offering in 2010. Prior to Sensata, Wroe had a successful career with Texas Instruments, holding a variety of management assignments in operations, engineering, marketing, and business development across all of the businesses in the sensors and controls division, where he was named President.
"As Chairman, I have seen the tremendous potential of the business working with Steve and the leadership team over the past year," said Wroe. "This is a great opportunity to build upon the operational foundation that has already been established. We will also continue our organic growth initiatives, amplified by focused, strategic acquisitions." Apex Tool Group completed one acquisition earlier this year and is actively evaluating a rich pipeline of acquisition opportunities.
"Apex Tool Group is fortunate to have an executive leader of Tom Wroe's caliber and experience to lead the company as we embark upon an important stage in the company's growth," said Paul Edgerley, a member of the Apex Tool Group Board of Directors and a Managing Director at Bain Capital. "We are excited about our continued investment in the business as we align resources to execute against a focused set of strategic initiatives."
Additional information about Apex Tool Group is available at www.apextoolgroup.com.