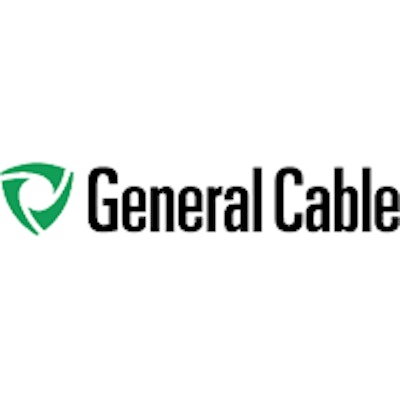 HIGHLAND HEIGHTS, KY — Earlier this month, Affiliated Distributors (AD) held their North American Electrical Supply Division Meeting in Chicago, and honored their Member Distributors and Supplier Partners during their Spirit of Independence Awards Banquet.
General Cable was in attendance for both the meeting and banquet, where the theme was Be Inspired and included over 1,000 attendees with representatives from over 290 companies throughout the United States, Canada, and Mexico. The banquet's keynote speaker was Bill Weisberg, Affiliated Distributor's Chairman & Chief Executive Officer, who talked about AD market leaders who have inspired him and shared stories about his AD heroes.
During the banquet, several companies received coveted AD member and supplier partner awards. Greg Lampert, President & Chief Executive Officer of General Cable Americas, accepted the Supplier of the Year for Leadership award, which was presented to him by David Kinsella, Vice President of Supplier Relations, U.S. Electrical Division, Affiliated Distributors.
"Greg Lampert is an exceptional U.S. Supplier individual who actively participates in AD Committees and taskforces, while effectively communicating the value of AD throughout his organization," Kinsella said. "He is also actively engaged with the AD staff and is a true leader among his peers within the Electrical Supply Division."
Lampert accepted the personal award on behalf of General Cable. He thanked the AD leadership for their outstanding support, which has contributed to General Cable's success with AD, as well as the members, who provide opportunities every day that enable the company to continue to grow the business. He concluded by saying, "As Bill (Weisberg) stated in his keynote address, there are no individual awards in the industry, there are only team awards, so on behalf of the 5,800 associates at General Cable North America and the 2,200 associates in General Cable Latin America, thank you again for the recognition, we appreciate it."
To read more about AD's successful North American meeting, see a complete list of winners and watch YouTube videos of the awards acceptance speeches, click here.
General Cable (NYSE:BGC), a Fortune 500 Company, is developer, designer, manufacturer, marketer and distributor of aluminum, copper and fiber optic wire and cable products for the energy, construction, industrial, specialty and communications markets. It operates 57 manufacturing facilities in 26 countries and employs approximately 14,500 associates. Visit its web site at www.GeneralCable.com.