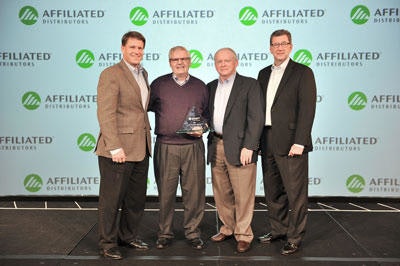 Bedford, MA — F.W. Webb Company received the "PVF Affiliate of the Year" award from Affiliated Distributors (AD) at the organization's recent annual North American meeting in Dallas. F.W. Webb Senior Vice President of Industrial Development Ernie Coutermarsh and Senior Vice President of Purchasing Ed Welch accepted the award on behalf of the company.
In introducing F.W. Webb as PVF Affiliate of the Year, Tim Arenberg, president of Columbia Pipe & Supply Company, shared a heartfelt tribute to Ernie Coutermarsh for positively impacting countless people in the industry with his "tremendous knowledge, loyalty, desire to help, and concern for others."
Gary Jackson, AD's vice president of the PVF Division, said having Coutermarsh and Welch — both military veterans — on stage accepting the award together on Veterans Day "was a moving tribute — a perfect moment. And, having a combined 85 years of industry experience between them is quite a story, too. My hats off to Ernie and Ed for their service to the country and to F.W. Webb."
F.W. Webb has been an active member of Affiliated Distributors since 1995 when the company joined as a charter member of the newly formed PVF Division. "The value of membership in Affiliated Distributors beyond the obvious purchasing clout is the ability to network with the best of the best," said Coutermarsh. "We learn from each other and stay one giant step ahead of the competition.
"Customers and manufacturers need nimble and effective distribution, as well as relationships with people they know and trust. As a result, the best distributors will continue to be the local independents," Coutermarsh said. "This pretty much defines an AD affiliate."
Affiliated Distributors (AD) is an industrial and construction products buying and marketing group. AD provides independent distributors and manufacturers of construction and industrial products with support and resources that accelerate growth. Their 540+ plus independently owned members span seven industries and three countries with annual sales in excess of $30 Billion.
Founded in 1866, the F.W. Webb Company offers products and services across 14 areas of expertise to residential, commercial, industrial, and institutional wholesale customers in nine states. F.W. Webb is the largest Northeastern distributor of products in plumbing, heating, HVAC, refrigeration, PVF (pipe, valves and fittings), building controls, propane and natural gas equipment, water systems, commercial and industrial pumps, fire protection and fabrication, industrial PVF specialties, thermoplastic piping, high purity process components, and process controls. 
For more information about F.W. Webb, visit fwwebb.com.