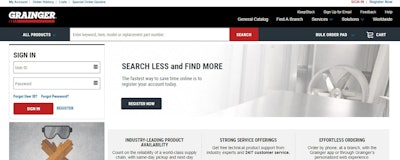 B2B credit management and automation service provider Apruve has released its rankings of the top industrial distributors by their e-commerce offering. The firm used three main critera — user experience, marketing, and B2B needs —  which also encompassed qualities of design, navigation and payment options. Apruve scored 50 leading industrial distributors on that criteria and ranked each one based on its combined score.
The final rating scale was broken down as follows:
>200 Superior: Companies provide B2B customers with an excellent website experience, multiple ways to purchase, and provides comprehensive product information to customers.
199-175 Sufficient: Companies give B2B customers a proficient website experience, but are missing some key B2B needs like checkout and financing options.
<174 Average: B2B customers looking to purchase might find it difficult to find and navigate the website, and will find it problematic to make purchases online.
Topping the list with a 245 total was Grainger, which led all distributors in marketing and tied for second in B2B needs. That score was a decent margin better than No. 2 HD Supplty at 231.5 points, which tied for best user experience. Systemax-owned Global Industrial was No. 3 at 223.8, while MSC Industrial Supply's 218 and Motion Industries' 200.5 rounded out the top five. 
The rest of the list is full of companies that regularly appear on Industrial Distribution's annual Big 50 List. Apruve gave ID permission to list its top 20 industrial distributors' based on their e-commerce offering total score:
1. Grainger - 245
2. HD Supply - 231.5
3. Global Industrial - 223.8
4. MSC Industrial Supply - 218
5. Motion Industries - 200.5
6. Zoro - 196.5
7. SupplyWorks - 193.9
8. F.W. Webb - 189.9
9. Turtle & Hughes - 185.5
10. Airgas - 184.3
11. Applied Industrial Technologies - 182.3
12. Hisco - 180.9
13. Valin Corporation - 176
14. Fastenal - 175.5
15. Wurth Americas - 170.3
16. Dillon Supply - 170.1
17. Grizzly Industrial - 166
18. CBT - 164.4
19. Sustainable Supply - 162.1
20. BlackHawk Industrial - 160.7
Find the rest of the list, and other distributor e-commerce insights by downloading Apruve's free report here
Other interesting findings from the report:
10% of distributors offer a mobile application
20% of companies offer a credit application for new customers
24% of websites evaluated offer a reordering function to customers
18% of companies offer product reviews
28% offer digital invoicing for customers