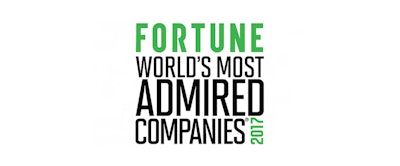 Fortune Magazine has revealed its annual 'World's Most Admired Companies' list of 2017, a reputation-based ranking of companies around the globe.
The list included seven companies classified as diversified wholesalers, and four of them were on Industrial Distribution's 2016 Big 50 List: Grainger (No. 3), WESCO International (No. 5) and Wolseley (No. 1). Genuine Parts — the parent company of Big 50 distributors Motion Industries (No. 8) and EIS Inc. (No. 22) — also made the list.
Fortune's Diversified Wholesaler companies had the following rankings (overall score):
1. Grainger (7.78)
2. WESCO International (6.78)
3. NGL Energy Partners (5.97)
4. World Fuel Services (5.9)
5. Rexel (5.84)
6. Genuine Parts (5.47)
6. Wolseley (5.47)
Grainger repeated atop the diversified wholesalers list, improving its score by 0.38. WESCO moved up one spot and improved by 0.88. Rexel moved down a spot and Wolseley moved down two. Genuine Parts made the list in 2015 but missed it last year, while Anixter International was left off this time around after coming in at No. 6 in 2016. See last year's list here.
Grainger has topped the diversified wholesalers' list for three straight years, and six of the past seven. It was second in 2013.
Fortune's 'Most Admired' list scores each company on nine different attributes of reputation to tabulate its overall score:
Innovation
People Management
Use of Corporate Assets
Social Responsibility
Quality of Management
Financial Soundness
Long-Term Investment Value
Quality of Products/Services
Global Competitiveness
To make the list, Fortune surveyed 680 companies across 28 countries and more than 50 industries. Apple repeated atop the overall list, followed by Amazon and Starbucks.
Here's the overall top 10:
1. Apple
2. Amazon.com
3. Starbucks
4. Berkshire Hathaway
5. Disney
6. Alphabet
7. General Electric
8. Southwest Airlines
9. Facebook
9. Microsoft
The list features a 'Top 50 All-Stars' section, while companies outside the top 50 didn't have a ranking assigned to them. No wholesalers (diversified, electronic/office products or healthcare) made the Top 50.
Noteable companies in the industrial supply sector to make the top 50 include:
11. FedEx
23. 3M
32. Home Depot
35. UPS
Fortune's Industrial Machinery company rankings were:
1. Siemens
2. Ingersoll-Rand
3. General Electric
4. Illinois Tool Works
5. ABB
6. Alstom
Fortune's Electronics and Office Equipment Wholesalers rankings were:
1. Arrow Electronics
2. Tech Data
3. Avnet
4. ScanSource
Here's Fortune's methodology explaination for the Most Admired Companies List:
"As we have in the past, Fortune collaborated with our partner Korn Ferry Hay Group on this survey of corporate reputations. We began with a universe of about 1,500 candidates: the 1,000 largest U.S. companies ranked by revenue, along with non-U.S. companies in Fortune's Global 500 database that have revenues of $10 billion or more.
"We then winnowed the assortment to the highest-revenue companies in each industry, a total of 680 in 28 countries. The top-rated companies were picked from that pool of 680; the executives who voted work at the companies in that group.
"To determine the best-regarded companies in 51 industries, Korn Ferry Hay Group asked executives, directors, and analysts to rate enterprises in their own industry on nine criteria, from investment value and quality of management and products to social responsibility and ability to attract talent. A company's score must rank in the top half of its industry survey to be listed."
Here's Fortune's video countdown of the top 10 companies on the list.