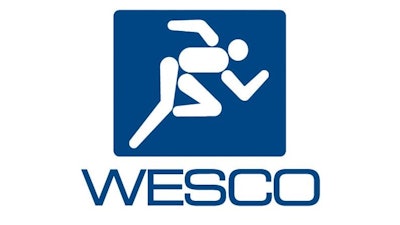 Pittsburgh-based industrial and electrical distributor WESCO International reported its 2019 third quarter fiscal results on Thursday, led by record Q3 sales for the company.
WESCO posted Q3 total sales of $2.15 billion, up 3.9 percent year-over-year, with organic sales up 3.4 percent. Sequentially, that sales figure is identical to Q2's $2.15 sales, when organic sales improved 1.9 percent.
WESCO's Q3 operating profit of $93.7 million was down from the $97.5 million it had a year earlier, while Q3 total profit of $64.5 million dipped from $66.8 a year earlier.
"We achieved record third quarter sales due to improving results in the US and strength in Industrial, Utility and Datacom," commented WESCO chairman, president and CEO John Engel in the company's earnings release. "Despite an economic backdrop of increased headwinds, all of our end markets and geographies grew on a year-over-year basis as expected. Gross margin was down versus prior year primarily driven by business mix and the impact of supplier price increases, which we continue to aggressively work to pass through."
By end market in Q3:
Industrial, which comprised 36 percent of total sales at $755 million, saw organic sales increase 4.6 percent year-over-year. The company's analyst presentation noted increased industrial uncertainty impacting business spending and that labor supply constraints continue.
Construction, which comprised 33 percent of total sales at $706 million, saw organic sales increase 3.3 percent year-over-year.
Utility, which comprised 16 percent of total sales at $358 million, saw organic sales increase 3.4 percent year-over-year.
Commercial-Institutional-Government (CIG), which comprised 15 percent of total sales at $312 million, saw organic sales increase 0.7 percent year-over-year.
By geography in Q3, US organic sales increased 3.9 percent; Canada organic sales increased 1.1 percent; and International organic sales increased 5.2
WESCO's Q3 sales percentage by product category was as follows:
General supplies - 41 percent
Communications & security - 16 percent
Wire, cable & conduit - 14 percent
Lighting & sustainability - 11 percent
Electrical distribution & controls - 10 percent
Automation, controls & motors - 8 percent
"Overall we expect our end markets to provide profitable growth opportunities for WESCO, while macroeconomic uncertainties could limit growth rates in the Industrial and Construction end markets," Engel added.
WESCO is expecting full-year 2020 sales growth in the range of flat to 4 percent.
On Oct. 1, WESCO announced the appointment of Nelson Squires as its senior vice president and chief operating officer, effective that same date.