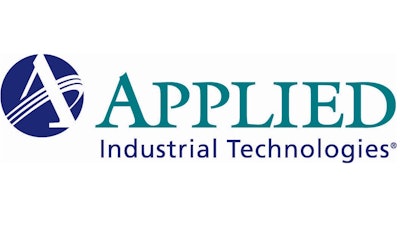 Applied Industrial Technologies — a distributor and solutions provider in industrial motion, fluid power, flow control, and automation technologies — reported its 2020 first quarter financial results on Wednesday for the period ended Sept. 30.
The Cleveland, OH-based company posted Q1 total sales of $856.4 million, down 0.9 percent year-over-year. That percentage change includes a 2.8 percent increase from acquisitions and a 1.6 percent selling day impact. Excluding those factors, organic sales decreased 5.2 percent. Applied's Q1 net profit of $38.8 million was down from the $48.9 million it had a year earlier.
"Our first quarter finished as expected with our team effectively managing through slower industrial demand," commented president and CEO Neil Schrimsher. "Ongoing execution on gross margin helped balance softer sales, and our working capital initiatives drove seasonally strong free cash flow. While the demand environment remains subdued and uncertain, our sales trends are exhibiting some stabilization on a sequential basis and should benefit from easier comparisons going forward."
Schrimsher added that Applied is off to a solid Q2 start with the company's late August acquisition of Olympus Controls and is encouraged by the growth developing around that company's automation capabilities. He went on to say that recent cost actions are expected to have a meaningful Q2 impact as Applied continues to leverage it systems investments and "expense discipline in the current environment."
Applied's 2019 fiscal year ended June 30, in which it had total sales of $3.47 billion. That figure was up 13.0 percent over 2018, though Q4 sales decreased 1.7 percent, including a 2.7 percent organic decrease. The company said it is expecting 2020 full-year sales in the range of down 2 percent to up 2 percent, including down 5 percent to up percent organically.
"Our operational discipline and internal initiatives are providing a path to navigate against slower demand, sustain gross margin enhancement, and deliver on our cash expectations," Schrimsher said. "In addition, we are intensely focused on generating greater value for our customers and shareholders in coming years by leveraging our unique technical and solutions-based position within an increasingly complex and labor-constrained industrial supply chain."