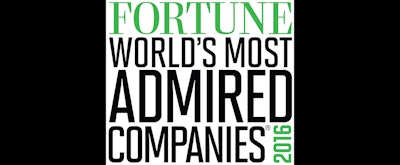 Fortune Magazine has revealed its fourth annual 'World's Most Admired Companies' list of 2016, a reputation-based ranking of companies around the globe.
As it did last year, the list included six companies classified as diversified wholesalers, and four of them were on Industrial Distribution's 2015 Big 50 List: Anixter International, WESCO International, W.W. Grainger, and Wolseley.
Fortune's Diversified Wholesaler companies had the following rankings (overall score):
1. Grainger (7.4)
2. Graybar Electric (6.1)
3. WESCO International (5.9)
4. Rexel (5.7)
4. Wolseley (5.7)
6. Anixter International (5.4)
Grainger and Graybar repeated as the top companies in the category, while WESCO moved up from No. 7 a year ago. Anixter joined the top six after missing out at No. 8 a year ago,
Missing from this year's 'Most Admired' from ID's Big 50 List that made it in 2015 were Genuine Parts Company (No. 4 last year) – the parent company of Big 50 companies Motion Industries and EIS Inc. – and Airgas (No. 5 last year).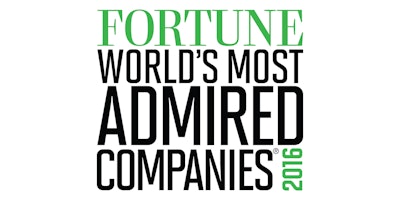 In Fortune's 'Industrial Machinery' category included the follwoing companies, in alphabetical order:
ABB
Dover
Illinois Tool Works
Ingersoll-Rand
Mitsubishi Heavy Industries
Parker-Hannifin
Fortune's 'Electronic and Office Equipment Wholesalers' category included the following companies, in alphabetical order:
Arrow Electronics
Avnet
Ingram Micro
Tech Data
Fortune's 'Most Admired' list scores each company on nine different attributes of reputation to tabulate its overall score:
Innovation
People Management
Use of Corporate Assets
Social Responsibility
Quality of Management
Financial Soundness
Long-Term Investment Value
Quality of Products/Services
Global Competitiveness
Other well-known industrial manufacturers names 'Most Admired' included 3M and Honeywell.
The list included 340 companies worldwide across 54 industries, and features a 'Top 50 All-Stars' section. Apple and Gooble repeated atop Forbes' Top 50 at Nos. 1 and 2, followed by Amazon.com, Berskshire Hathaway, and Walt Disney to round out the top 5.
Companies that weren't included in the overall top 50 did not have a ranking assigned to them.