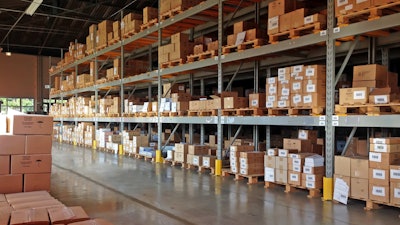 iStock
Worth a Look
Every year, Industrial Distribution's annual Big 50 List of North America's largest distributors of industrial products by revenue is our biggest and most well-known feature. And naturally, headlines involving companies on that list tend to be our most-read news items.
But while those Big 50 companies often drive the industrial supply news cycle — since they're pumping out the most news — the industrial distribution landscape is still comprised primarily of small, independent companies, even amid a rapid rate of industry consolidation.
That's why in 2012, ID debuted its annual Watch List feature, aimed to shed light on those small and mid-sized industrial distributors that deserve recognition. Now in its ninth year, the 2020 Watch List recognizes a select group of distributors for their recent growth, innovation, or just for being a well-run company.
To comprise our Watch List, ID reached out to numerous buying groups, co-ops and associations in the industrial supply space and asked them to nominate member distributors for this feature. We then followed up with those nominees with a questionnaire asking for basic company information. Companies could share as much or little info as they wanted.
As is often the case when producing our Watch List, several nominated distributors elected to pass on inclusion for this year's feature, citing their desire to remain under-the-radar in the market, while acknowledging their gratitude toward the group that nominated them.
Congratulations to all our 2020 Watch List nominees. Read on to see this year's companies, listed in alphabetical order.
— Anna Wells, ID Executive Editor & Mike Hockett, ID Managing Editor
* All information, provided by these respective companies, is as of Dec. 31, 2019.

Engman-Taylor Company
Nominated by:

AD

CEO/President: Rick Star
Year founded: 1956
Headquarters: Menomonee Falls, WI
Website: www.engman-taylor.com
Key product categories: Cutting tools, abrasives, power tools, material handling, safety, coolant, vending, Jan/San, 3D printing.
Total locations: 5
Total headcount: 106
Does it offer e-commerce? Yes, since 2011.
Recent awards/honors: Engman-Taylor (ET) was honored most recently with the Member of the Year award at the 2019 AD North American Meeting, and also won the 2017 Industrial Supply Association American Eagle Excellence in Industry award.
Recent news: A few recent ET differentiator offerings focus on optimization of processes by application of its cost-savings model — the Cost Circles. The First, Tool Optimization Services focuses on optimizing the entire tool assembly through the use of shrink fit, balancing and presetting as a service. ET also offers Inventory Optimization Services to maximize the inventory asset and to understand the indirect material cost per part produced. ET's newest Product Center focus on 3D printing by offering it as an in-house service through the company's 3D Parts Unlimited Operation, which includes consultation, design services, part optimization and printing. Says the company: "3D printing has taken ET into new markets unrelated to its historic customer base."
Company notes: ET is internally organized into "Product Centers" of the categories mentioned above, with each supported by dedicated technical applications personnel, inventory and demonstration/test areas known as "Solutions Centers". ET has e-commerce customers in all 50 US states.
How does it describe its culture? "ET's culture is focused on collaboration as a team. We refer to ourselves as Team ET. We are strongest when we are united, it is part of everything we do, and the success experienced would not be possible without that strength of being united."
Additional company commentary: "We have resisted the opportunity to be acquired and are in fact focused on doing the opposite of what acquirers are doing. In the supply chain and transactional areas, we perform at or above the levels of the publicly traded nationals. We go beyond them in providing technical acumen not just through people, but through investments in assets. Our seven-figure investments in 3D printing and tool optimization services equipment illustrate our philosophy of doing whatever it takes to differentiate ourselves from those against whom we compete. No other industrial distributor — big or small, public or private — possess the technical capabilities that are routine at ET."

Industrial Bolt & Supply, Inc. (IBS)
Nominated by: STAFDA
CEO/president: Derek Butcher - CEO, Michelle St. John - President
Year founded: 1977
Headquarters: Auburn, WA
Website: www.industrialbolt.com
Key product categories: Abrasives, cutting tools, industrial chemicals, automotive electrical, fittings & hose, threaded fasteners, safety, welding.
Total locations: 26 sales territories
Total headcount: 50
Total SKU count: 18,000
Total 2018 sales: $8.1 million
Estimated 2019 sales: $8.5 million
Does it offer e-commerce? Expected to launch in Q4 2020.
Recent news: Last year marked IBS' third consecutive year of record-setting sales growth, capping a decade that saw the company grow 60 percent from $5 million to $8.5 million. In 2018, IBS expanded its sales leadership by hiring regional sales manager, Matt Goff, to establish a second region to support territory expansion goals that included the addition of a fifth district and eight additional territories by 2021. The company's five-year goals include the addition of a sixth district in the southwestern US, possibly through acquisition in light of slower than expected organic growth and strong financial health. IBS' 2019 included the upgrade of its distribution software to Distribution One's ERP ONE+ platform to take its warehouse wireless, integrate remote order entry and launch its new (currently under construction) website and e-commerce solution. In the past 2 years, IBS has expanded its product offering by nearly 400 SKU's, primarily through new innovation in its industrial abrasives, cutting tools, and chemical lines accounting for additional sales of $1M, according to IBS marketing director, Tom Whalen. IBS president and co-owner Michelle St. John served as STAFDA Board President in 2018, completing her term with a state of the industry address to 2,500 members during the General Session of the November 2018 Convention in Phoenix, AZ.
How does it describe its culture?

"IBS is a family-owned company that practices family centric-leadership with a fierce commitment to individual and professional development, focusing on employee engagement, education and philanthropy. Corporately, IBS supports The Boys & Girls Clubs, The General Federation of Women's Clubs, Rotary International, The Auburn Food Bank, The Federal Way Multi-Service Center, Susan G. Komen, World Vision and volunteers its warehouse as a training center for local organizations who provide skills training to employees with developmental disabilities."

Additional company commentary:

"Despite slowing sector and regional growth, IBS expects to grow through new business development, territory and product line expansion with an emphasis on maintenance department services, education and training designed to reduce operational redundancies, downtime and labor costs."

P.F. Markey
Nominated by: IBC
Owner/CEO: Jim Terry
Year founded: 1977
Headquarters: Saginaw, MI
Website:

www.pfmarkey.com

Key product categories: Cutting tools, abrasives, industrial diamonds, fluids, MRO & PPE
Total locations: 2
Total headcount: 60
Total SKU count: 400,000

P.F. Markey

Does it offer e-commerce? Launching in 2020.
Recent certifications: AutoCrib Premier Distributor Certification.
How does it describe its culture?

"Very friendly family atmosphere with an emphasis on customer service."

Additional company commentary:

"P.F. Markey is small enough to be very nimble unlike traditional large corporations, but large enough to provide career opportunities for our people. There is no bureaucracy to sift through, so decisions can be made quickly because the top leaders in the company — right up to the owner/CEO — interface directly with all employees and customers. All employees are empowered to make decisions to take care of the customer. We focus on taking care of our employees and taking care of our customers, and we openly acknowledge our successes along the way. Our core values can be summarized into three: 1, Get better every day!; 2, Have high expectations!; 3, Hustle and smile!"

Quality Mill Supply Company
Nominated by:

AD

CEO/President:

Evan Gilbert

Year founded:

1944

Headquarters:

Franklin, IN

Website: Cutting tools, abrasives, MRO
Total locations:

5

Total headcount:

95

Does this company offer e-commerce?

Yes, since April 2017

Recent awards/honors:

Chairman Alan Gilbert was the 2019 ISA John Buckley Award Winner. Quality Mill was a 2019 and 2018 Indy Star Top Workplace.

Recent news:

Quality Mill completed an expansion to its Franklin headquarters, featuring more warehouse and office space to accommodate continued growth.

How does it describe its culture? "Our culture is well captured in our core values — customer service, family, innovative, collaborative and driven by goals and results. Our culture is one where we support each other like family and expect everyone to be treated with respect. We know our customers have a myriad of choices when it comes to simply buying the products that we sell, so it's our service that must, and does, shine."
Additional company commentary: "We have experienced significant growth over the past few years with not only our existing customers but expanding to other customers looking for cutting edge inventory management as well as cost-savings initiatives that keep them competitive in their marketplaces. There has been a lot of excitement as we've continued to expand our offering, but we have retained the same spirit of customer first thinking that got us this far to begin with."
Tech Service Products, Inc.
Nominated by: IBC
CEO/President: J. Brock Dumestre, Jr.
Year founded: 1973
Headquarters: Harahan, LA
Website: www.tspndt.com
Key product categories: MRO/industrial supplies and non-destructive testing products.
Total locations: 5
Total headcount: 22
Total SKU count: 3,000+
2018 sales growth vs. 2017: 62.4%
2019 sales growth vs. 2018: 22.6%
Does it offer e-commerce? Yes, since 2012.
Recent awards/honors: 2019 IBC Purchase Power Award; 2019 IBC Pedal to the Metal Award; 2018 IBC Purchase Power Award.
Recent news: Tech Service Products (TSP) recently upgraded its website to give it improved e-commerce functionality. It's added new product lines that include brands such as Elliott Tool Technologies and Punch-Lok. TSP recently expanded by adding its fifth stocking location — Midland, TX.
How does it describe its culture? "Tech Service Products is a company structured for sustainability through its employees who self-manage and strive for excellence in their personal and professional lives. TSP is a place where employees can realize their full professional and financial potential."
Additional company commentary: "Through experienced team members, a high level of customer service and from our multiple locations, TSP solves problems for our clients. Client solutions may be as simple as eliminating current vendor apathy or providing vendor consolidation, to as complex as working with a client to implement a centrally guided supply chain solution which is locally executed by client offices."