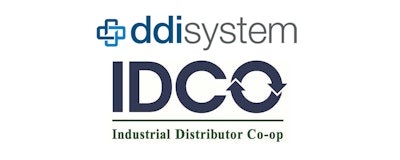 SANDY HOOK, CT — DDI System has announced its partnership with the Industrial Distributor Co-Op (IDCO) as the ERP software supplier of choice for IDCO members. DDI System joins a powerful member list of industrial distributors with a common goal of combining purchasing power to affect profitable growth by sharing innovative marketing, technology, education, and industry information.
DDI System's Inform ERP software is an award-winning, industry-specific solution for wholesale industrial, rubber and hose distributors. Inform combines everyday operational benefits in accounting, inventory, sales, purchasing and pricing with the latest sales driving tools such as real-time eCommerce, embedded CRM, mobile apps and more.
"Industrial distributors require more than managing daily operations. In today's competitive world, they are seeking the next generation of sales tools and features that allow them to tap into deep reporting for actionable results, compete with digital distributors and provide customer access 24/7," says DDI System's CEO Adam Waller. "Becoming a member of IDCO allows us to partner with some of the most progressive industrial, rubber and hose distributors and continually innovate Inform's ERP technology to propel distribution growth and combat disruption".
DDI's Inform ERP is a well-recognized solution for industrial distributors. Arlington, TX-based Pumps & Controls turned to DDI to help meet the need for automation and keep up with the continuing technology boom.
"DDI's solution has allowed me to manage my business and double revenue with the same staff," states Troy Welch, President/CEO of Pumps & Controls. "Inform revealed areas where we have captured huge time savings and greater efficiency. Embedded CRM allows us to communicate between departments such as customer service and sales. In the end, these features have helped our company become a customer service leader."
DDI will make their first appearance during the IDCO Annual Tradeshow on Feb. 12-15 in Fort Worth. To learn more about Inform's capabilities for industrial distributors and the IDCO partnership, contact sales@ddisystem.com.