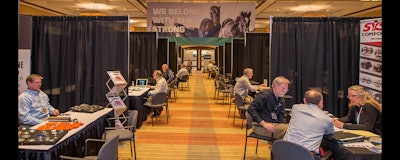 WAYNE, PA — On Jan. 17-19, AD Bearings & Power Transmission hosted its third annual AD Winter Meeting at the Sawgrass Marriott in Ponte Vedra Beach, FL. More than 125 participants from AD members and supplier partners were in attendance which is an 18 percent increase from the previous year.
Throughout the meeting, members and suppliers were given updates on a variety of AD Programs, including; eCommerce Solutions, HR Services and Procurement Services. Another focus on this year's meeting was AD's Market Planning and Conversion Program.
President of AD Industrial, Jack Templin stated, "In two short years AD's Bearings and Power Transmission Division has grown to the largest group of independent group of Bearings and PT distributors in North America. Their unity and commitment to supporting AD Suppliers preferentially is unwavering. Similarly the AD supplier partners are being rewarded for their support of independent distribution. It was great to see this on display at this years' Winter Meeting."
During the event the following awards were presented to the best of the best for their participation and commitment to AD.
This year's honorees are:
AD is the largest contractor and industrial products wholesale buying group in North America. AD provides independent distributors and manufacturers of construction and industrial products with support and resources that accelerate growth. AD's 600+ plus independently owned members span seven industries and three countries with annual sales in excess of $34 Billion. AD served industries include electrical, industrial, plumbing, PVF, HVAC, building materials and bearings & power transmission.
See Industrial Distribution's 2017 Association Profile of AD here (print version here)