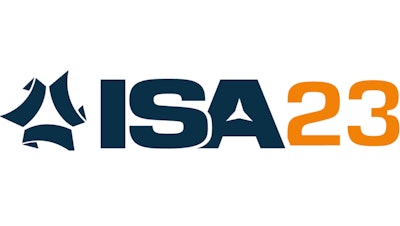 The Industrial Supply Association is proud to host ISA23, the leading industrial supply convention of 2023, from April 17-19 at the Sheraton Phoenix Downtown and Phoenix Convention Center.
ISA23 is the perfect opportunity for companies within the industrial supply channel — including distributors, manufacturers, industrial manufacturers' representatives (IMRs), and service providers — to network and build relationships with their peers and grow their network of contacts.
This year's event is all about networking and helping attendees make valuable connections through a mix of different experiences. ISA23 will feature a charity golf outing on the championship golf course where participants will enjoy 6+ hours of networking. A charity 5K Fun Run/Walk kicks off Day 2 of the agenda and is another opportunity for attendees to connect on a different level. Added to that, the event will include a new Networking Lunch, a top-of-the-line appointment scheduling tool, four networking receptions, two exhibiting days, and a next-level Networking Lounge complete with a golf simulator and putting greens.
"We've been hard at work listening to what member companies are asking for and created new networking experiences that match those needs at ISA23. We've gotten very intentional about how people network understanding that it's not a one-size-fits-all approach," said ISA President Brendan Breen. "ISA has revamped the format of its convention to answer the call of what people are wanting, which is networking, networking, and more networking. We're really excited about what we have to offer this year and the feedback has been incredible."
The convention also features an incredible lineup of speakers, including basketball legend Bill Walton, who will open the event with a headline keynote. Alan Beaulieu, chief economist and president of ITR Economics, will close out the event with an insightful, can't-miss keynote designed to help attendees navigate the coming year. Attendees will also benefit from staying on top of the latest industry trends and best practices during, as well as connecting with the right people to do business.
On the first day of the convention, ISA23 will host two long-form, interactive pre-conference workshops led by Texas A&M professors around two critical topics. The Industrial Sales & Marketing workshop is designed to teach participants how to stay competitive in the evolving world of industrial sales and marketing and bring more value to customers. The Next-Gen Talent Acquisition workshop will help companies to engage, retain and develop top, next-gen talent — a timely and critical topic given the current labor crisis.
At ISA23, attendees will find a wide range of decision-makers, including C-suite, E-suite, and leadership executives, sales & marketing teams, HR professionals, IT leaders and more. Everyone involved in the industrial supply industry can benefit from the networking, learning, and relationship-building opportunities ISA23 has to offer.
We look forward to seeing you at ISA23 for the best networking event in the industrial supply channel. For details, visit www.ISA23.isapartners.org.