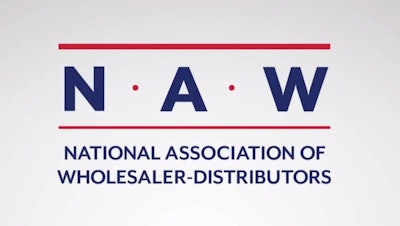 WASHINGTON — Members of the National Association of Wholesaler-Distributors (NAW), during the association's first-ever Digital Summit this week, elected as Chairman of the NAW Board of Directors, Michael Medart, President and CEO, Medart Engine & Marine, headquartered in St. Louis, MO.
Medart succeeds Douglas York, President and CEO of Ewing Irrigation & Landscape Supply, headquartered in Phoenix, AZ. York will remain active on the NAW Board as Immediate Past Chairman.
Says Medart of his new post, "I am proud to serve as the 2021 Chairman of NAW. After receiving the benefits of NAW membership for 30 years, it is my honor to give back to the organization that has helped Medart Engine & Marine, a family-owned wholesale distributor since 1912 that represents more than 60 manufacturers in the engine industry and more than 125 manufacturers in the marine industry. Our company is known for bringing value and solutions to our customers under our motto, 'Real People Caring to Give Real Service.' Medart Engine & Marine has gained much knowledge and enjoyed the networking and benchmarking opportunities, educational events, best practice thought leadership, and business services that NAW offers. I have also been fortunate to develop deep business connections with other distribution leaders through NAW. I look forward to working with this association and our members in 2021 and contributing to NAW's ongoing important work for our industry."
Medart Engine & Marine is also a member of the National Marine Distributors Association and the Outdoor Power Equipment & Engine Service Association Inc.
The following wholesale distribution industry leaders also were elected as NAW Officers for 2021:
Chairman-Elect
Jeff McLendon
President and CEO, U.S. Lumber
Duluth, GA
U.S. Lumber is also a member of the North American Wholesale Lumber Association Inc. and the World Millwork Alliance.
First Vice Chairman
Michael DeCata
President and CEO, Lawson Products, Inc.
Chicago, IL
Lawson Products, Inc. is also a member of the Industrial Supply Association and the International Sanitary Supply Association.
Second Vice Chairman
Larry Stoddard
President and CEO, RelaDyne LLC
Cincinnati, OH
Secretary
Kevin Short
President and CEO, ORS Medco
Tulsa, OK
Eric Hoplin
President and CEO, National Association of Wholesaler-Distributors
Washington, DC
Completing the NAW 2021 Board of Directors are Treasurer and Chairman of the Subcommittee on Budget and Finance, George Pattee, Chairman of the Board of Parksite Inc., headquartered in Batavia, Illinois; Chairman of the NAW Association Executives Council (AEC), Kenyon Gleason of the National Association of Sporting Goods Wholesalers; Chairman-Elect of the AEC, Brian McGuire of the Associated Equipment Distributors; and Past Chairman of the AEC, Rick Long of the Petroleum Equipment Institute.
NAW comprises individual wholesale distribution firms and a federation of national, regional, state and local associations and their members, which collectively total nearly 30,000 companies. NAW represents the nearly $6.0-trillion merchant wholesale distribution industry, which moves to market virtually every kind of product in the U.S. economy and employs 5.9 million people.