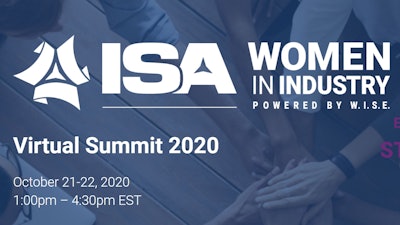 ISA has launched registration for their next virtual event for 2020, their first-ever Women in Industry Virtual Summit – taking place October 21-22nd from 1-4:30 pm EST.
Powered by the ISA network W.I.S.E. (Women Industrial Supply Executives), this two-day virtual event is open to women at all levels within the Industrial Supply Channel, allowing attendees to engage, learn and lead with a larger group of women than ever before.
With the accessibility of ISA's virtual platform, organizations now have the ability to increase employee engagement with speakers and workshops designed to educate, inspire and motivate women to BE resilient, hopeful, strong, enthusiastic, and an ally within the channel.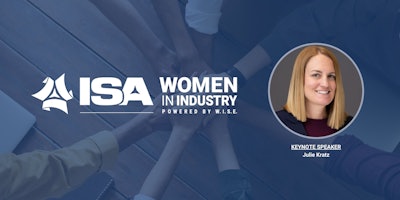 "The virtual summit is full of incredible educational content that women at any level can benefit from. Open to non-members as well, we're looking forward to a successful event with more women in attendance than ever before." – Donna Benner, Vice President of Operations, ISA
Opening keynote TEDx speaker Julie Kratz will share her research on why women need men as allies for gender equality. Day two of the summit will feature two educational tracks where speakers will share substantive and easily applicable material on personal branding during the digital age, understanding emotional intelligence, and using meditation/yoga for a healthier you. See the full agenda here.
Attendees will have an opportunity to virtually network with other women in the industrial supply channel and make personal connections throughout the summit during a virtual happy hour.
Now is the time to position your company going forward, register today to engage and learn from inspiring women looking to inspire others, you're going to want to BE there!