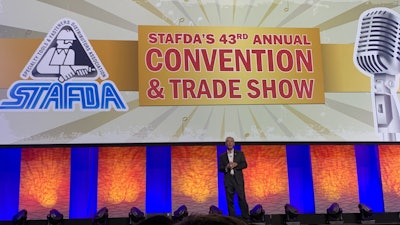 Industrial Distribution/Mike Hockett
This past Sunday-Tuesday (Nov. 10-12) was the Specialty Tools & Fasteners Distributors Association's (STAFDA) 43rd annual convention and trade show, showcasing the latest and greatest in power tools, hand tools, fasteners, safety products and essentially any tool you'd find on a construction site — and the vendors that make and sell them.
STAFDA 2019 was held in Nashville, TN for the fifth time in the event's history, but occupying the extensive Music City Center, it was the first time it was held downtown, as the previous four occasions (1985, 1991, 2000, 2007) were at the Opryland Hotel on the city's outskirts.
The setting itself was perfect for STAFDA 2019. From the Music City Center's windows, construction cranes were everywhere downtown for numerous projects that will reshape the area with taller, higher-density buildings to accommodate Nashville's surging population of approximately 700,000 and metro area population of about 1.75 million. According to a report from the Nashville Downtown Partnership, there is more than 2 million square feet of office space under construction in the downtown area, with another 2 million planned.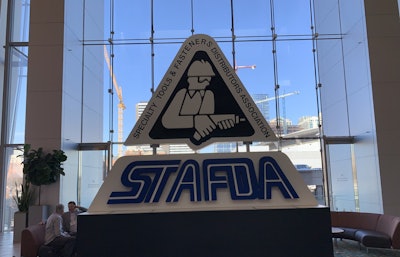 During the convention's Nov. 11 General Session, STAFDA vice president Greg Hughes (also president of Hampton Roads Fastener & Construction Supply) said that downtown Nashville currently has 170 construction projects with crane use, ranging from high-rise office development to residential.
While all those projects may not have been the most aesthetically pleasing backdrop for most out-of-towners, it fit right in for STAFDA's audience.
"With all the construction activity here in Nashville, we should feel right at home," Hughes said in opening the General Session.
Besides the fitting backdrop, STAFDA 2019's attendee numbers point to a strong state-of-the-industry, even amid an overall slowdown in demand for industrial products and predictions for a weakened US economy heading into 2020.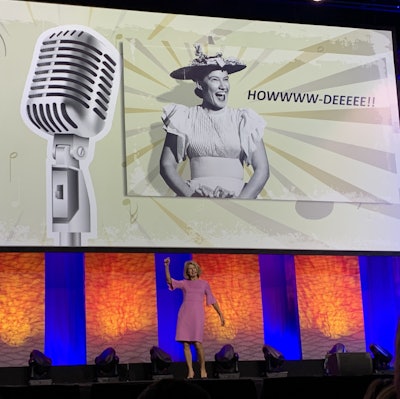 During the session, STAFDA chief executive Georgia Foley gave an Association Update speech that included the statistic of 4,590 pre-registered attendees for STAFDA 2019. That number was 8.5 percent higher than the association's 2018 event in Phoenix, and is the highest pre-registrant total since the Great Recession. STAFDA 2019's trade show had 489 total exhibitors that occupied 691 10x10-foot booths and ten 50x50-foot islands, while the expo floor also had its STAFDA's largest Tech Fair ever, with 28 vendors of solutions in ERP, e-commerce, CRM, sales and other business operation areas.
Foley added that STAFDA's four host Nashville hostels sold out by 3:00 CT on the first day registration opened, even after more rooms were added at Noon that day. STAFDA ended up with nine hotels in its block and all filled up by Monday.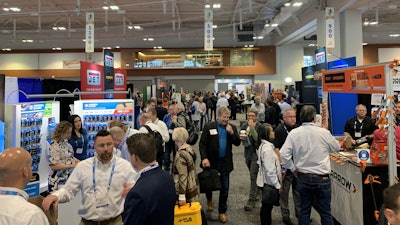 "STAFDA members set the business barometer for other construction channels, private equity firms, executive recruiters and investment companies," Foley stated in her speech. "Congratulations — that's an extraordinary achievement and something to be very proud of, and one you probably didn't even know."
Foley shared that STAFDA membership currently stands at 2,439 — representing 1,131 associates, 293 rep agents and 21 affiliates (trade press). The more outstanding stats were that STAFDA's 992 distributor member companies have 7,170 total branches, bringing their total market reach to 8,162 locations. Foley noted that last figure is 3,874 more locations than Home Depot and Lowe's combined.
STAFDA 2019's Opening Party featured country music duo Big & Rich, which join previous STAFDA Nashville big-name entertainment that has included Martina McBride (2015) and Reba McEntire (2000).
STAFDA's 2020 will be held Nov. 8-10 in Anaheim, CA, while its 48th annual convention & trade show is scheduled to be back in Nashville in the fall of 2024.