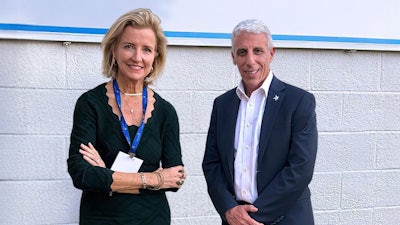 Turtle
CLARKE, N.J. — As part of ambitious plans for transformational growth in its second century of innovation, the board of directors of Turtle, one of the country's largest independent electrical and industrial distributors, has announced that effective Wednesday, Jayne Millard, executive chairman of the board and fourth-generation family leader, and Luis Valls, president of Turtle's electrical division, will head the company as co-CEOs.
With a core mission of accelerating the transition to clean, sustainable energy — "Rethinking Energy and Advancing Tomorrow" — together they bring a unique perspective and diversity of thought combining Millard's strategic vision and Valls' industry-leading engineering expertise.
In keeping with a multi-year succession management plan, Kathleen Shanahan, who served as CEO, will assume a senior advisory role continuing her legacy of remarkable leadership. Turtle sustains its decades-long certification as a WBE.
"This succession plan involved the board of directors, Kathleen and Luis," said Millard. "I want to pay tribute to Kathleen, whose extraordinary guidance has left an indelible mark on Turtle and prepared us for this exciting next stage in Turtle's trajectory. I also congratulate Luis, who has been a beacon of leadership as the president of the electrical division since 2018, consistently fulfilling our customers' mission-critical needs with innovation and enhanced sustainability."
"Luis and I will jointly drive our company brand value of 'Radical Collaboration' and invite members of our community of customers, suppliers, partners and others who share our passion for uncovering actionable energy solutions to join us in transforming the electrical and power ecosystem. Toward this most profound challenge of our time, I am eager to take an active leadership role as co-CEO while maintaining strategic leadership as executive chair of the Turtle board."
As a 30-year industry veteran with over 20 years at Turtle, Valls brings to the co-CEO role his respected experience in engineering customer solutions that achieve energy efficiencies and enhance the lives of the people and communities they touch. His resume includes high profile projects such as the World Trade Center reconstruction, NYU Langone Medical Center, and Hudson Yards.
"There has never been a more exciting time for our industry to enable public and private sector leaders to design and accelerate their electrification strategies," Valls said.
As a senior advisor, Shanahan will focus her strategic business and government policy experience on Turtle's government relations & public affairs, touching the company's significant national, state and municipal projects.
"We are grateful to have Kathleen's exceptional expertise in her new role, which leverages her many accomplishments that include successfully leading the company during the pandemic, driving top line business development, and expanding our market presence with ESG and our broader sustainability goals among many powerful customer-focused initiatives," said Millard.
"It is my honor to work with this exemplary family company whose core values and respect for our generations of employees continue to fuel innovation and growth," said Shanahan.
Jayne Millard: Co-CEO and executive chairman of the board
Millard is the third generation of women to lead Turtle, a 100-year-old, family- and woman-owned enterprise co-founded by her great-grandfather in 1923. Growing up in the business, Millard held positions of increasing responsibility before being named CEO in 2010 and executive chairman in 2016. Under her leadership, the company has experienced explosive growth by continuing her family's legacy of relentlessly pursuing innovation and excellence.
Millard created the company's new mission for the next century to inspire and build sustainable solutions. She is widely recognized for creating opportunities for her customers and employees. Most recently, Millard was inducted into the Women's Business Enterprise Hall of Fame (2021), honored with the Modern Distribution Management Women in Distribution Award (2021), and bestowed the National Association of Electrical Distributors Women in Industry Trailblazer Award (2020).
As evidence of the company's commitment to its employees and a collaborative culture, Turtle received a 2023 Best Places to Work Award in New Jersey by NJ BIZ, the third time in four years. Additionally, under Millard's guidance, the Turtle independent board of directors was recognized for excellence in governance with a 2023 Private Company Board of the Year Award from the New Jersey chapter of the National Association of Corporate Directors.
Luis Valls: Co-CEO and president, electrical division
Valls was named president of Turtle's electrical division in 2018. Previously, he served for 10 years as vice president and national manager of the company's power distribution & automation solutions department. Under his direction, Valls championed enhanced capabilities and built one of the nation's strongest and most innovative teams of engineers capable of managing all aspects of power distribution and control working on some of the industry's most complex projects. He was named one of Notable Hispanic Leaders 2022 by Crain's New York Business.
Prior to joining Turtle, Valls held positions at General Electric Co., Compton Instruments, and Siemens Energy & Automation. Valls was born in Camaguey, Cuba, and raised in the Canary Islands and Panama. He first came to the U.S. to attend Fairleigh Dickenson University, where he earned a degree in industrial engineering.
Kathleen Shanahan: Senior advisor
Shanahan was named Turtle's CEO in 2020, following two years as co-CEO with Millard. Shanahan joined in 2017 as executive vice president of national accounts driving digital, marketing and brand value in the marketplace. Previously, she served for over three years on its board of directors. In 2020, Shanahan was named CEO to Watch by Family Business Magazine.
She has held numerous distinguished federal and state public policy positions, including chief of staff for Florida Gov. Jeb Bush and Vice President‐elect Dick Cheney; special assistant to Vice President George H.W. Bush; and staff assistant on President Ronald Reagan's National Security Council.