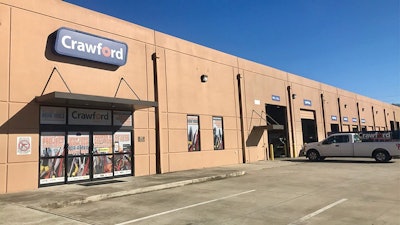 Crawford Electric Supply
HOUSTON — Crawford Electric Supply, a Sonepar company, announced that Regional Vice President Tim Horny will be retiring March 31.
Horny has more than 40 years of industry experience with almost 18 years at Crawford. He established the distributor's San Antonio market and built a successful career recruiting talented associates, mentoring future generations of leaders, executing strategic plans that increased market share, and contributed to shaping the company's culture of profitable growth.
"I've had the honor of working with a lot of great people over the last 42 years. The relationships I've built and the experiences I've had have made a tremendous impact on me and have helped me grow as a person and a leader," Horny said. "These past 18 years working for Crawford and Sonepar have been a great honor and having the privilege to lead some of the best people in the industry at Crawford has been life changing. I've always strived to put our people, our customers, and the company first, and I hope that I have accomplished that goal.
"My wife, Debbie, and I will spend the rest of our years together living life to the fullest and will especially enjoy spending time with our new grandkids — Hank and Scout Grace — that my son, TJ, and daughter-in-law, Christina, have blessed us with. Warmest of regards to everyone that I've made friends with along the way. I will cherish you forever. Thank you for the time of my life."
"We had the privilege of celebrating Tim and his contributions to Crawford this past week during our Leadership Conference. Tim's passion for Crawford and our associates is unmatched," said Mike Dumas, Crawford's president. "I'd like to thank Tim for being a respected leader who has helped shape Crawford into the amazing company that it is today. I wish him my very best as he spends more time with his family in this new phase of life."