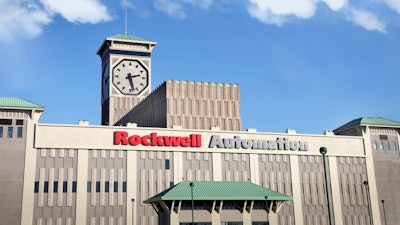 Rockwell Automation
MILWAUKEE — Rockwell Automation Inc. announced that Robert Buttermore will be named senior vice president and chief supply chain officer, effective Feb. 13.
He will report to Rockwell Chairman and CEO Blake Moret.
In this role, Buttermore heads the Integrated Supply Chain organization and is responsible for leading global strategy and development of Manufacturing Operations, Manufacturing Engineering, Quality, Sourcing, Logistics, and Customer Care. Buttermore succeeds Brad Skogman, who has served as the interim head of ISC since June 2022.
"Bob has demonstrated vision and leadership in growing our core business and meeting our customers' needs. His strategic vision, leadership track record, passion for building and empowering teams, and ability to work across the company position him well to lead our agile supply chain organization," Moret said. "I would like to thank Brad for his strong leadership and results during this dynamic supply chain period. He and Bob will partner for a smooth transition, and we are happy to have Brad return as a leader in our Finance organization."
Buttermore has built his career at Rockwell. He joined the company in 1997 in the Operations Leadership Development Program as an engineer in Cleveland. He has gained global industry expertise with roles of increasing responsibility and leadership scope in operations management, sales, and sales management, including as regional vice president, Greater China. Most recently, Buttermore was vice president and general manager of the Power Control Business within the Intelligent Devices operating segment, overseeing global operations, and developing and implementing strategic direction for this critical area. In this role, he led Rockwell's recent acquisition of CUBIC.
Buttermore holds a bachelor's degree in mechanical engineering from Ohio State University.