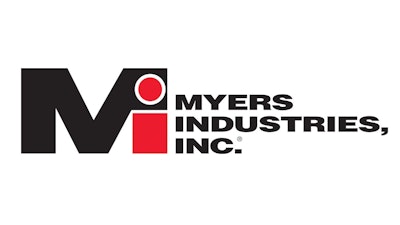 AKRON, OH — Myers Industries, an international manufacturer of polymer products for industrial, agricultural, automotive, commercial and consumer markets announced Friday the appointment of Dan Hoehn as the company's interim chief financial officer effective Sept.18, following the mutual agreement of the company and Kevin Brackman, former executive vice president and chief financial officer, to separate effective Sept.18. The company will engage a nationally recognized firm to undertake a comprehensive search to identify a permanent chief financial officer.
Hoehn has served as the company's vice president, corporate controller since August 13, 2019. Prior to joining the company, Hoehn served as vice president, controller, and chief accounting officer for Babcock & Wilcox Enterprises for four years. Prior to 2015, he held various finance leadership roles with Chiquita Brands International, Inc., including vice president, controller.
"Dan brings significant professional financial and accounting experience, and we're pleased to have him lead our finance team at this important time of executive transition and ongoing evolution of our company," said Mike McGaugh, president and chief executive officer. "I am confident that Dan will continue to provide valuable insight as part of our leadership team as we work to identify and appoint a permanent CFO."
McGaugh continued, "We thank Kevin for his years of contributions to the company, and we wish him the best in his future endeavors."
These changes are not the result of any matters relating to the company's accounting practices or financial statements.
Myers Industries is also the largest distributor of tools, equipment and supplies for the tire, wheel and under-vehicle service industry in the US.
Visit www.myersindustries.com to learn more.