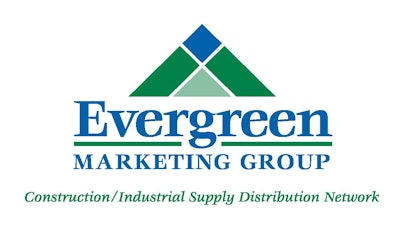 FARMERS BRANCH, TX — The Evergreen Marketing Group board of directors has named William W. Ward as executive vice president of the organization effective September 1. The selection of Ward is part of a succession plan as the group prepares for the retirement of long-time CEO Kevin Higginbotham in May 2022.
Ward has more than 30-years of sales, marketing, and communications experience in the industrial and construction marketplace. Most recently, Ward was Co-Founder and Managing Director of Forward Collective LLC, a strategic marketing and communications firm, since 2015. The firm specialized in business-to-business sales and marketing consulting with a broad range of clients in the industrial and construction markets.
Prior to founding Forward Collective, Ward served as Vice President of Sales and a member of the Executive Management Team for JPW Industries. While at JPW, Ward also served on the Evergreen Supplier Advisory Council. Ward's broad industry experience includes progressively more responsible positions at Propex LLC, Intertape Polymer Group, Streamlight, Inc., Standard Abrasives and Cooper Industries.
"Bill brings a strong set of marketing, communications, and management skills to the group," said Terry Earle, Chairman of Evergreen. "We are confident he can provide the leadership needed during this transition period."
The Evergreen Marketing Group is a member-owned cooperative founded in 1989 by six construction/industrial supply distributors. It currently consists of 54 distributors with more than 325 locations in the United States and Canada and has combined revenues of more than $2.5 billion dollars. The group is focused on driving growth and profitability of its members and preferred suppliers through an on-going program of training & education, business development and partnering. Evergreen maintains a state-of-the-art 11,000 square foot training center in Farmer's Branch, TXand offers the industry's only professional certification program for distributor sales and operations people. Evergreen Members are distributors of tools, fasteners, concrete accessories and other construction/industrial products.
For more information, contact Chase Vandiver at 1-800-859-8733.