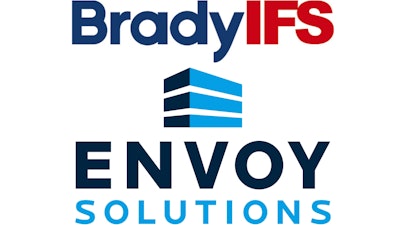 GLENVIEW, Ill. and BELL, Calif. — Leading distribution companies BradyIFS and Envoy Solutions on Tuesday celebrated the completion of the previously announced merger of the two organizations.
The agreement, first announced in August, was pending regulatory approval and customary closing conditions. The companies are now operating as a single organization as of Nov. 1 and Kenneth D. Sweder, previously BradyIFS' chairman and CEO, will serve as the chairman and CEO of the combined enterprise.
The merger creates a transformational new organization with nearly $5 billion in annual revenue, an incredible team of nearly 6,000 associates across 180 locations, and more than 100,000 branded and exclusive brand products from leading suppliers.
Together, the combined company is one of the largest, most capable distribution platforms in North America, providing a broad range of supplies and expert support to clients focused on facility care (JanSan), foodservice, industrial packaging, and marketing execution. The company's focus on creating high-value and lasting client relationships remains unchanged as it continues to provide products, solutions and support tailored to help clients achieve their operating objectives – cleaner, safer and more successful facilities, and more productive, sustainable operations.
"It's an exciting day for our companies and teams," said Sweder. "We will 'Win as One' by bringing our companies together to deliver the best value for our customers, suppliers, and associates."
Under the agreement, Kelso & Company and its affiliate funds are joined by Warburg Pincus and its affiliate funds, along with BradyIFS management, to collectively become majority owners in the combined business and control the board. Fomento Económico Mexicano, S.A.B. de C.V., previously the majority owners of Envoy Solutions, will maintain a significant minority share in the combined company with representation on the board.