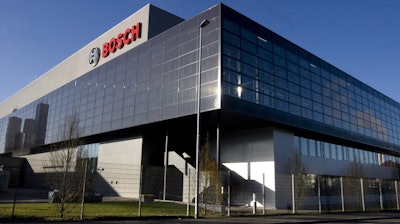 Bosch
ROSEVILLE, Calif. — Bosch announced Friday that it has completed the acquisition of assets of the U.S. chipmaker TSI Semiconductors Corporation, based in Roseville, California, on August 31.
The new company is called Robert Bosch Semiconductor LLC.
In April 2023, Bosch announced its intention to acquire certain assets of TSI Semiconductors. With this acquisition, Bosch is establishing significant manufacturing capacity in an important market. Starting in 2026, the first chips will be produced on 200-millimeter wafers based on the innovative material silicon carbide. Bosch plans to invest some $1.5 billion to transform the Roseville site into a facility that produces and tests silicon carbide semiconductors, which are a key building blocks for electric vehicles.
"We are systematically reinforcing our global portfolio of SiC chips to advance electromobility," said Michael Budde, President, Bosch Automotive Electronics. "In electric vehicles, SiC chips enable greater range and more efficient recharging, as they use up to 50 percent less energy. The investment clearly shows our commitment in this strategically important field."
"By extending our semiconductor operations, we are strengthening our local presence in an important market for high efficiency electronic solutions" said Paul Thomas, who will assume the role of president, Americas for Bosch Mobility beginning in January. "The location in Roseville will reinforce the Bosch semiconductor business and expand our international semiconductor manufacturing network."
The approximately 250 local associates in Roseville are now part of the global Bosch family. The Roseville location has extensive experience in the design and production of semiconductors for automotive and industrial applications for nearly 40 years. Production will be built up gradually and we expect the Roseville location to grow.
Thorsten Scheer, a semiconductor industry specialist with 10 years of professional experience in the sensor business, is heading the new organization as plant manager in Roseville and regional president of the Bosch Automotive Electronics division in North America. In this role, he integrates the Roseville site into Bosch's international semiconductor manufacturing network and manages the transformation of the plant into a production facility for silicon carbide chips. Here, Thorsten Scheer builds on his broad experience in various leadership positions for Bosch in Germany, Hungary, and the U.S., and in particular his expertise in post-merger integration. Thorsten Scheer is a physicist and holds a doctorate in economics.
"The semiconductor experts in Roseville and the existing clean-room facilities will allow us to manufacture SiC chips for electromobility on an even larger scale," said Scheer. "This is an amazing opportunity to be at the forefront of one of the most exciting developments in the technology sector, together with a dedicated and experienced team."
Systematic investments in pivotal semiconductor technology
Over the coming years, Bosch intends to invest more than $1.5 billion in the Roseville site and upgrade the manufacturing facilities to state-of-the-art processes. The full scope of the planned investment will be heavily dependent on federal funding opportunities. Bosch intends to apply for federal funding under the CHIPS and Science Act and already the Governor's Office of Business & Economic Development (GO-Biz) approved a $25 million California Competes Tax Credit incentive that will support redevelopment and investment in Roseville.
"Bosch looks forward to a strong, long-term partnership with the city of Roseville, Placer County and the state of California," Scheer said.