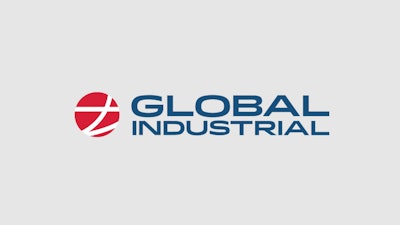 Global Industrial Company, along with most other major industrial distributors, experienced a strong rebound after the nadir of the global pandemic in 2020.
The Long Island-based company's sales jumped from just over $1.03 billion in that year to $1.06 billion in 2021 — good enough to come in at no. 18 on Industrial Distribution's Big 50 list of top North American distributors.
The company followed that year up with a record financial performance during the following one, posting just shy of $1.17 billion in sales in 2022, aided by a strong post-pandemic recovery and the impact of inflation on product pricing.
But by the time company officials were highlighting a new annual high in total revenue, troubling signs were already apparent. Global's margins and net income slipped in the third quarter of last year, and sales were down slightly year-over-year in the final quarter of 2022.
In the first quarter of the new fiscal year, things took an even darker turn. Global Industrial saw a 5% decline in sales compared to the first quarter of 2022, while its net income was off by nearly 40% over that span.
Although the latest sales totals had to be compared to a then-record quarter in early 2022, Global officials suggested that more factors were in play than a simple correction from an earlier surge. The company said that while sales to its largest customers remained strong, smaller and mid-size customers were exhibiting more caution amid broader macroeconomic uncertainty.
Despite a rough couple of quarters, Global Industrial Chief Executive Officer Barry Litwin maintained that the company had anticipated slower profits and that officials had a plan in place to weather a tricky industrial climate.
In the company's year-end earnings disclosure, Litwin said Global would focus on attracting new customers, bolstering its e-commerce operations and expanding into new markets, mentioning the healthcare and hospitality sectors, in particular. Three months later, he touted an "exceptional balance sheet" that would allow Global to continue pursuing its corporate strategy — including organic and "strategic" opportunities.
Less than three weeks later – after not announcing a single acquisition since its 2015 addition of Plant Equipment Group – Global Industrial completed a nearly $70 million purchase of Indoff Inc., a St. Louis-based business solutions provider and distributor to a broad range of B2B and B2C industries, including not only Global's targeted sectors of hospitality and healthcare, but manufacturing, finance, education and government agencies.
Litwin said the deal provided an important strategic combination, particularly in material handling, storage, appliances, furniture and other "core" product categories. He also said Indoff's services and project expertise, along with a network of more than 350 sales partners, would strengthen Global's overall value proposition.
"We see a number of opportunities to enhance the value we collectively provide," Litwin said in the announcement, including "opening a new channel to deliver Global's Exclusive Brand offering and national brand assortment, and the broader utilization of B2B e-commerce platforms."
Indoff will be a wholly owned Global Industrial subsidiary, but remain an independent operation under the continued guidance of its current management. Jim Malkus, the company's chief executive, said Global, with its billion-dollar scale, would help Indoff – at roughly $180 million in annual revenue – continue expanding and strengthen the value it provides to its customers.
"This is an exciting time for our employees and our customers," Malkus said.
This column appeared in the July-August edition of Industrial Distribution magazine.