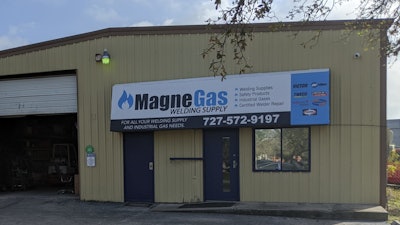 MagneGas
NEW YORK — Meritus Gas Partners, a portfolio company of AEA Investors' Small Business Private Equity team, announced that it has closed the acquisition of substantially all assets of MagneGas Welding Supply-South LLC.
The purchase was completed through a Section 363 Sale process resulting from MagneGas and its parent, Taronis Fuels Inc., filing Chapter 11.
The acquired assets relate to MagneGas' business in Texas, Louisiana and Indiana and include seven retail locations and a recently expanded state-of-the-art fill plant and specialty gas laboratory in the Dallas-Fort Worth metropolitan area. Mitchell Welding Supply LLC, Meritus' existing operating company in the Dallas-Fort Worth area, will integrate all of MagneGas' assets, customers and employees into its business. Jered Ruyle, former CEO of Taronis, will join the Mitchell management team as vice president of operations.
"We are ecstatic to add the excellent MagneGas facilities and operating assets to our growing Mitchell business and welcome MagneGas' dedicated employees to the Meritus family. We are confident that Mitchell will offer an exceptional level of service to MagneGas' loyal customers," said Rob D'Alessandro, Meritus' vice chairman. "The Dallas-Fort Worth market is a top 5 industrial market in the United States, and the stretch of East Texas between the Dallas-Fort Worth Metroplex and Shreveport, Louisiana, that MagneGas serves has a vibrant, growing customer base.
"This acquisition furthers our growth plans to become the leading independent distributor in the region. We are also fortunate to inherit a high-quality gas-rich business in Indiana, which gives us a jump start to build a larger business in that area."
Rodney Wray, President of Mitchell, added, "With the support of Meritus, we are fortunate to emerge as the winners of the 363 Sale. The MagneGas facilities fit like a glove with our locations' footprint. Moreover, we warmly welcome MagneGas' employees to our family, most of whom worked for Tyler Welding Supply, a well-regarded independent distributor acquired by MagneGas in 2019," added Mitchell President Rodney Wray. "We know that this transaction will resurrect the entrepreneurial spirit and commitment to growth that Tyler and its employees were well known for before 2019."
"We are so pleased to join Mitchell and the Meritus federation, a first-class platform," said Ruyle. "Meritus was the only potential buyer who regarded MagneGas as a going concern. Other bidders were liquidation buyers, whereas Meritus valued our facilities and employees. Our employees have cooperated to support our customers during this difficult period. I am grateful for their dedication, and we are blessed to have a new home. The outlook is bright."