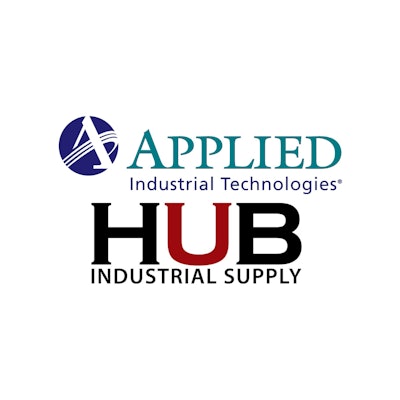 Cleveland, Ohio-based Applied Industrial Technologies – No. 16 on Industrial Distribution's 2015 Big 50 List – announced Tuesday that it has acquired HUB Industrial Supply, a Lake City, Florida-based distributor of consumable industrial products.
Terms of the deal were not disclosed.
HUB has a team of 52 employees between its three locations – Lake City, FL; Indianapolis, IN; and Las Vegas, NV. The company distributes an array of products including cutting toos, fasteners, abrasives, safety products, paints, and related general industrial items.
Applied said HUB will operate as a subsidiary of Applied MSS under the name HUB Industrial Supply LLC.
Read our Distributor Profile on HUB Industrial Supply from our 2015 January/February print issue.

"HUB Industrial Supply is an excellent strategic fit that further strengthens and diversifies our Applied Maintenance Supplies & Solutions (Applied MSS) business," said Neil A. Schrimsher, Applied President and CEO. "HUB is highly effective in utilizing e-commerce, target marketing and service to penetrate vertical markets. Overall, our collective customer focus and growth initiatives are well aligned."
HUB, founded in 1990, was doing $500,000 in annual sales as of 1996. HUB CEO Gabriel Curry bought the company in 2006 at the age of 27, and as of last year, had turned it into a $25 million distributor.
"We are happy to welcome the HUB team and look forward to working together for continued success with new and existing customers," added Todd Barlett, Applied VP - Acquisitions and Global Business Development.
As of our Distributor Profile story on HUB Industrial in early 2015, the average age of a HUB employee is 31 years old.