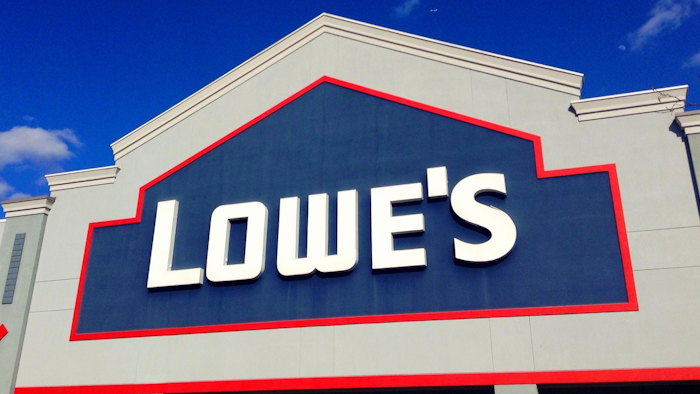 This article originally appeared in the 2016 January/February print issue of Industrial Distribution. To view the full digital edition, click here.
Lowe's, the huge home improvement chain that sells products for the Do-it-yourself customer, is beginning to sound more like an industrial/construction distributor as it pursues sales in the Pro contractor/MRO markets.
Lowe's has re-launched a website for pros, established a national accounts team and increased the number of account executives who call on contractors and MRO buyers at their sites. Lowe's has also added a number of new products and increased its inventory of nationally-known brands.
After releasing its third quarter earnings statement, Lowe's made it clear that it will continue to focus on expanding its sales reach to the professional contractor and MRO buyer, a move that many construction/industrial distributors should not ignore. Robert Niblock, chairman, CEO, and president of Lowes, said the company has taken a number of steps in order to capture a larger share of the pro contracting market which now accounts for more than 30 percent of the home improvement chain's revenues.
Lowe's believes that number can grow much higher. "We've been working to improve our product and service offerings for the Pro customer and differentiating ourselves to better customer experiences that make us the project authority," Niblock said in a conference call with analysts. "And we continue to enhance our omni-channel capabilities, transforming our brand from a multichannel offering in-store, digital, in-home and by phone to an omni-channel experience, where all of our channels work in concert with one another."

In the second quarter of 2015 Lowe's re-launched its pro-focused website, www.lowesforpros.com, which company officials say is attracting many more purchasers/ buyers and is leading to increased sales. The upgraded website allows customers to search catalogs for 500,000 products, order them online, and pick them up in local stores. They can also have the products delivered to their business or job site for a discounted price of $20 or less.
Lowe's boasts it maintains more than 200,000 MRO products on the site and most of those products can be delivered in one or two days. Lowe's also has "bulk contractor packs" that allow a contractor or buyer discounted products that they use most, items such as nails, caulking, coaxial cable, or wiring.
In addition, Lowe's now has more than 150 account executive professionals who meet with customers in stores or at their job sites to grow its business with larger pro customers, especially those who buy MRO products. Its national accounts team services hundreds of customers.
Pro customers now also have a direct line to the pro desk and bypass the company's automated phone system, making it faster and easier to get answers and order products.
"We are also reconnecting with Pros who have not recently purchased from Lowe's to show them what's changed in our stores and online. We're using targeted marketing, as well as Pro-focused events to drive awareness and generate new business," said Rick Darmon, Lowe's chief operating officer in the conference call.
For example, he pointed out that September was Pro Appreciation month. During the month, Lowe's offered vendor demonstrations and special values on core Pro products throughout its stores. The targeted marketing approach means a combination of print and digital marketing to the pro customer, company executives said. That combination will give Lowe's the ability to reach the Pros through more "creative online techniques to get the right promotion in front of pro at the right time."
Lowe's is the second largest home improvement chain in the nation with 1,719 stores and revenues in excess of $56 billion. Home Depot, the largest home store chain, has been pursuing the professional market for several years. But Lowe's executives don't believe that HD is their only big challenge for the pro market and has mentioned smaller distributors/retailers as their competitors. Lowe's has also expanded its Orchard Supplies, a 74-store hardware chain on the West Coast, a much smaller operation that has an excellent e-commerce platform.
Home Depot made headlines last year when it purchased Interline Brands, one of the largest MRO distributors in the country. In a separate conference call, Home Depot CEO Craig Menear told analysts that the acquisition "builds in our existing capabilities to serve our Pro customers. Interline gives us a national presence in the MRO market, which will allow us to expand our share of wallet with our collective customers."
Jack Keough is contributing editor of Industrial Distribution. You can reach him at john.keough@comcast.net.