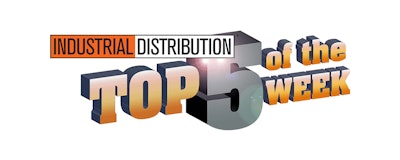 The latest quarterly earnings reporting period kicked off this week, with MSC Industrial and Fastenal sharing continued strong numbers. Meanwhile, the announced merger between Essendant and S.P. Richards was expectedly of huge interest to ID readers.
Here's this week's Top 5
Essendant To Merge With Genuine Parts Co. Subsidiary S.P. Richards: Workplace essentials distributor Essendant and Genuine Parts Company both announced Tuesday that they have agreed to merge Essendant with GPC's office products subsidiary, S.P. Richards, in a move that creates a new company with an estimated $7 billion in revenue.
Video - Amazon Business Vs. Industrial Distributors: Applico founder and CEO Alex Moazed, who was featured in three of ID's most popular content items in 2017 regarding Amazon Business' impact in the B2B supply sector, chats with Bloomberg Technology about how e-commerce unit is disrupting MRO distribution. Though the video is a year old and the distributors mentioned have certainly improved their offerings since then, the discussion is certainly still relevant today.
Fastenal Continues To Trim Branch Count As Vending & Onsite Power Further Sales Growth In Q1: While Fastenal's fastener sales continue their steady gains, the company's industrial vending and Onsite locations continue to power most of the distributor's considerable growth — both year-over-year and sequentially. That's allowed Fastenal to trim its physical branch count while growing sales.
4 Steps To Overcome Common Sales Objections: Objections are a natural step in the selling process. And like with championship sports teams, winning comes with difficulty. Here, Mike Schultz details the pros of sales objections, and how to handle them properly.
Strong Q2 Sales & Profits At MSC Industrial Signal Continued MRO Market Growth: Typically being the first large MRO products distributor to report its quarterly earnings, MSC Industrial serves as a good barometer for the overall health of the industrial products market. Further evidenced in MSC's 2018 Q2, that health report is showing strong vitals.