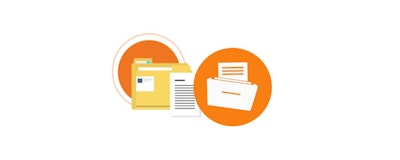 There is one aspect of B2B e-commerce that is at best viewed as a simple function, or at worst, totally ignored. And yet like so many other components of business operations, the simplest approach is often the most powerful.
List management is one of the "hidden" areas of B2B e-commerce where not just customers, but sales and service representatives can often find enormous value. We've all learned the hard way that the true objectives of B2B commerce need to be measured by much more than revenue; the real goals should also reflect metrics aligned to increased efficiency and decreased cost-of-sales. When used to its fullest capability, list management can drive onboarding, expedite re-orders and most importantly, become a significant enabler for sales and service efficiency. List management is the "little engine that could" when it comes to driving performance within a hybrid e-commerce model where the customer experience may range from entirely full-service, to nearly 100 percent self-service.
To their credit, most distributors have not had access to the technology that will not only create lists, but will manage them in a collaborative fashion with the myriad of roles often involved in a complex B2B buying cycle. But this technology exists, whether creating custom lists or abstracting lists from the product catalog. As with so many other aspects of B2B commerce we carry our personal commerce expectations and experiences over to our professional lives when it comes to a digital ordering process. Amazon wish lists set the standard for what we feel we need to do within B2B e-commerce. But what we CAN do is much, much more.
Order Enablement
We'll start with the area that most people are familiar with when it comes to lists, and that's ordering. Most systems are able to create lists of frequently ordered products, and many allow for re-ordering via a simple click. Usually, there's an "add to cart" feature that makes re-ordering simple and easy.
But what if the order involves more than one person or has a complex approval process workflow? Consider adding lists to the workflow so that they are automatically edited and distributed according to business rules that may apply for total purchase, contracted vendors, location or other separate factors.
Promotions
It can be hard to get sales representatives to introduce new products to their customers. Creating custom presentations or other promotional materials is a tedious task, and not one that often delivers strong ROI to the rep or the organization. Lists can be extremely valuable as part of an overall promotion engine in a variety of ways. Sales can create new lists of products that may be complementary to the customers' existing order history and send those lists as suggested add-ons as part of an ongoing order. Or they can create a simple email with a hyperlink directly to the customers' personalized list of new products directly within the system.
Once the products have been introduced, items on the list (or the entire list itself) can become part of a promotion incentive sent on a pre-scheduled frequency. This keeps those new products top of mind for the customer, without causing a great deal of work for the sales representative. Another potential promotion could be around excess inventory, or clearance items. Lists can be created of items that are marked down and relevant to each specific customer.
In many ways, using lists as a promotional tool can be a powerful tool to increase mindshare without being annoying. Sales can create a list of new products that even simply shows up in a customer's file. Once notified that a list of suggested "new products" are in their profile, customers may order samples, turn the list into an actual order or simply save it for later viewing.
Data Analytics
A strong e-commerce system should provide the data on which products might be of most interest to a particular customer. Lists can be narrowed down in that fashion, reduced the amount of time wasted sifting through clearance catalogs for customers or salespeople.
Lists also help provide interesting information on what resonates with the customer and what doesn't. This comes not only from seeing what they might order or not order. Digital list management allows distributors the ability to see how a customer is interacting with a list. Are they looking at products once and leaving the page? Are they viewing a product multiple times without ordering? Do they tend to respond quickly to short lists or do they prefer one longer list sent less frequently? All of this information is valuable not only to continue to add new complementary products, but for sales to understand the buying behavior of individual customers and map their activity to that unique behavior.
Collaboration
Within B2B e-commerce lists need to be viewed not as an individual function but as a collaborative effort. Not only does the approval process often involve more than just one person, so too does the ordering process, particularly when it involves a job site. Collaborative list management lets an entire team working together create joint lists for combined ordering.
Lists are not often considered a tool when orders need to be placed from outside the office, and yet in many cases crews are working in the field and need to order supplies that could be critical to meet deadlines. Lists that are collaborative in nature can be shared among the work team and sent to the designated approver at the end of the day, for example. Those lists are turned into orders with a simple checkout process, and materials could be sitting on the jobsite by the next morning. All of these functions can be completed with mobile devices, so lists are shared, managed and approved on the job in real-time. Conversely, within the office collaborative lists ensure that all the roles involved in complex B2B buying functions should be able to make additions and changes to lists, and even share lists with guest users on occasion.
Collaborative list management also drives engagement, as we all know that filling out forms for replacement parts or other types of simple re-orders are often the least-favorite activity, meaning it gets done last. Being able to add to a list in real-time not only automates a low-value task, but the worker becomes engaged in driving the project forward.
There are likely many more ways that clever managers are using lists to drive efficiency in their day-to-day operations. But the digital application of lists can be of great impact when extending the productivity of the entire B2B process. Used effectively, with the right promotion, collaboration and backed by good data, I would take it so far as to say that lists can actually be quite transformational.
Karie Daudt is the Vice President of Customer Experience and Marketing for Insite Software. Connect with her on LinkedIn or follow here on Twitter.