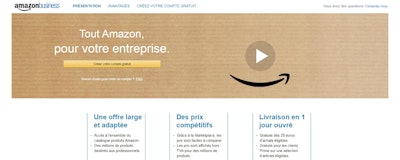 When Amazon announced the launch of Amazon Business in Japan and India last October, I took the liberty of speculating where the e-commerce giant would expand its B2B e-commerce platform to next and guessed France.
I'll toot my own horn a bit and say that prediction was correct, as Amazon on Wednesday announced that it is now available in France.
Formerly AmazonSupply, Amazon Business launched in the U.S. in April of 2015 and now serves more than one million business customers — a figure the company hasn't provided an update about since July 2017. Amazon Business launched in Germany in December of 2016, in the United Kingdom in April of 2017, and in Japan and India in September of 2017.
But I can't take too much credit. France was the next logical country for Amazon Business. Other than China, France was the only top-seven GDP country Amazon Business where Amazon Business wasn't yet available. Here's a look at those top GDP countries, according to the latest forecast released by the International Monetary Fund in its October 2017 report:
U.S. - $19.4 trillion
China - $11.9 trillion
Japan - $4.9 trillion
Germany - $3.7 trillion
France - $2.575 trillion
U.K. - $2.565 trillion
India - $2.4 trillion
"Companies with entities around the world can now manage their procurement needs and purchase supplies locally in any country where Amazon Business is available," Amazon said in Wednesday's announcement. "In each country, Amazon Business helps organizations of all sizes meet a wide range of procurement needs with features and benefits that simplify the procurement process and increase efficiency for business buyers."
Led by the Paris metro market — home to major industrial companies like Air Liquide, Saint Gobain, Schneider Electric and Sonepar to name a few — France gives Amazon Business a stronghold in Western Europe. Reports surfaced last fall that Amazon was already looking for physical expansion in France and distribution partnerships 
Here's a look at the key features Amazon Business' France customers now have access to with the platform:
Free premium shipping: Access free premium shipping for orders over €25 (U.S. $30.67) on millions of eligible items.
VAT-exclusive pricing and VAT invoicing: Similar to Amazon Business UK and Amazon Business Germany, view pricing with and without VAT on millions of eligible products.
Multi-user business accounts: Connect individuals or departments under one business account and gain visibility into how your business is spending on Amazon.
Reporting and analytics: Gain insights into what, when and how your business is purchasing by creating custom reports on business spends.
Purchasing system integration: Capability to integrate leading third-party procurement solutions for easy access to Amazon Business.
"Sellers on Amazon Business also have an opportunity to grow their businesses by reaching new customers in France, from small companies to multi-national organizations," Amazon added.
Before the France launch announcement, the most recent news out of Amazon Business was its launch of Amazon Business Prime Shipping last October.
So with France now in the fold, where to next for Amazon Business? I'll revert back to what I shared in my Japan & India-launch write-up. Amazon Business would love to launch in China, but it's struggled to gain footing there, where it only had 1.3 percent of the e-commerce market while competing against Alibaba and JD.com. Amazon launched its Prime membership in China in October 2016.
Rounding out the top GDP countries are Brazil, Italy and Canada, neither of which Amazon Business is present in. Canada seems like it'd be the simplest option given its geographical proximity (Amazon's Seattle world headquarters is 120 miles from the Canadian border), and the country's French heritage would make it a logical next step after the France launch.
Italy would seem to follow suit with Amazon Business' European expansion, but I also expect the platform to soon expand to The Netherlands, globally reknown as the logistical heart of Europe. I'm biases since I did a logistics press trip around the Netherlands in the fall of 2016 (See my recap here: Part 1, Part 2, Part 3), but the numbers don't lie. Despite a population of only about 17 million, the country has the world's 18th-largest GDP as of 2016, and Forbes ranked Holland as the seventh-best country for business in 2017.
So right now, I'm going to predict that Amazon Business will next launch in Canada, followed by The Netherlands. If that happens, just call me Nostradamus (who is fittingly French).
Here are Amazon Business' six current country websites: