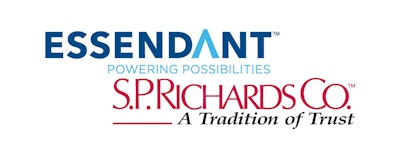 Workplace essentials distributor Essendant and Genuine Parts Company both announced Tuesday that they have agreed to merge Essendant with GPC's office products subsidiary, S.P. Richards, in a move that creates a new company with an estimated $7 billion in revenue.
Expected to be completed before the end of 2018, the deal involves GPC spinning off S.P. Richards into a standalone company and then merging it with Essendant. The transaction values S.P. Richards at approximately $680 million, and Essendant will pay GPC $347 million. Upon closing, GPC shareholders will own approximately 51 percent of the new company and Essendant shareholders will own 49 percent.
Essendant had 2017 full-year sales of $5.04 billion, while S.P. Richards' 2017 revenue was $2.0 billion.
"Together, Essendant and S.P. Richards will form a stronger, more competitive business products distributor with greater scale and service capabilities and an enhanced ability to support customers," stated both Essendant and GPC's press releases. "Bringing together leadership and operational expertise from Essendant and S.P. Richards and combining the best elements of each business' operations will create an even stronger company with the ability to harness each organization's unique strengths and capitalize on opportunities to create value."
The newly-combined company will be called Essendant, and be led by Essendant president and CEO Ric Phillips, while Essendant CFO Janet Zelenka will hold that same position as well. S.P. Richards President and CEO Rick Toppin will be appointed COO of the combined company, and additional leadership roles will be mutually determined as part of the integration process. The combined company will maintain headquarters in both Deerfield, IL and Atlanta, GA.
The new Essendant will have approximately $300 million in adjusted EBITDA and 4.2 percent adjusted EBITDA margins. The combination is expected to result in more than $75 million in annual run-rate synergies and more than $100 million in working capital improvements. The companies say the cost synergies will be primarily driven by sourcing, supply chain and selling, general and administrative efficiencies, and they expect 90 percent of the cost synergies to be realized within two years post-closing and to incur less than $50 million in one-time cash costs to achieve those synergies.
"By bringing together two businesses with long histories, complementary product lines and a shared customer-centric approach, we are creating a much stronger, better positioned company," Phillips said. "Combining resources, leadership and operational expertise from both teams, and the unique strengths of both businesses will enhance our ability to compete and help our customers succeed in the face of a rapidly evolving market."
Charles Crovitz, current Chairman of the Board of Essendant, will serve as Chairman of the Board of the combined company. He will be joined by three Essendant-appointed Directors, four Genuine Parts Company-appointed Directors and four Directors appointed by mutual agreement.
For GPC, the move will narrow its business focus to its automotive and industrial products units. That industrial unit is Motion Industries — No. 6 on Industrial Distribution's 2017 Big 50 List — which just absorbed fellow GPC subsidiary EIS Inc., an electrical/industrial distributor.
"This transaction is the result of a comprehensive process to maximize the value of S.P. Richards and represents a key step in the execution of Genuine Parts Company's long-term strategy by enabling us to increase our focus on our larger, core global automotive and industrial businesses," GPC president and CEO Paul Donahue said.
Essendant's industrial products segment had 2017 full-year sales of $590 million, while its jan/san sales were $1.32 billion.