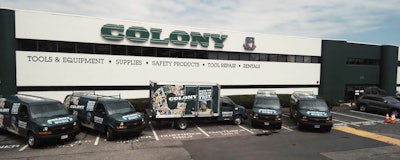 ORLANDO & PEMBROKE PARK, FL — Avison Young negotiated two new long-term industrial leases totaling 70,156 square feet on behalf of Colony Hardware, a national distributor of tools, equipment, fasteners, supplies, and safety products, to accommodate the company's expansion in central and south Florida.
Avison Young's Lisa Bailey, Principal, completed Colony Hardware's 44,680-square-foot lease at 2487 Tradeport Drive, a 189,400-square-foot industrial building within Liberty Park at AIPO (Airport Industrial Park Orlando) in Orlando, Florida.
Avison Young's Wayne Schuchts, Principal, and Bobby Benton, Brokerage Services, completed Colony Hardware's 25,476-square-foot lease at 2525 SW 32nd Ave. within Seneca Industrial Park, an 885,000-square-foot, class A distribution and warehouse park in Pembroke Park, Florida. The lease brought Seneca's occupancy to 100 percent.
The lease transactions come on the heels of Colony Hardware's recent acquisition of Florida-based Allied Fastener & Tool, prompting its need to expand its footprint in both markets.
"In Orlando, Colony Hardware required a much larger space than what Allied Fastener & Tool previously occupied," said Bailey. "The previous space was approximately 5,000 square feet, and we secured a space in Colony's size range at 44,680 square feet in the tight Airport submarket. The company's responsiveness and desire to quickly move forward with a lease resulted in an advantageous deal and closing within 45 days of engaging our firm."
The aggressive growth patterns of Colony Hardware led to a mirrored transaction in South Florida. Avison Young coordinated across offices to close another swift deal by securing the last space within an in-demand industrial park.
"Colony Hardware's preference to remain in South Florida's Southeast Broward area yielded few options for the required space size," said Schuchts. "However, Bobby and I identified the opportunity at Seneca Industrial Park and worked closely with our client to act fast and beat the competition."
According to recent market reports, Orlando Airport and Southeast Broward submarkets are both experiencing robust demand for industrial space, limited development in the pipeline, and a lack of large blocks of space. Direct vacancy rates in both submarkets post below 4 percent; 3.95 percent in the Orlando Airport submarket and 3.5 percent in Southeast Broward.