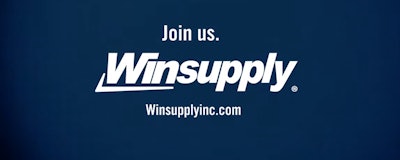 DAYTON, OH — Winsupply Inc. has opened Winsupply of Kerrville (Texas), serving plumbing, heating and air conditioning and water well contractors in southwest Texas, and Winsupply of Chattanooga (Tennessee) serving HVAC contractors in southeast Tennessee and north Georgia.
Ronnie Sprenger is the president of Winsupply of Kerrville and has 18 years' experience in plumbing and HVAC. Sprenger and his team of three employees bring a lot of combined experience in plumbing and HVAC. The geographic region served includes the following counties: Kerr, Bandera, Gillespie, Uvalde, Maverick, Valverde, Kendall, Comal, Edwards, Real and Kimble. "At Winsupply of Kerrville we pride ourselves in offering the best customer service and reliability in the industry," Sprenger said.
Jeremy Whitworth is president of Winsupply of Chattanooga and has been a branch manager in HVAC for 20 years. Jeremy and his staff bring more than 40 years of expertise in HVAC. "We will be relentless in our efforts at being the best at customer service and HVAC distributor of choice," Whitworth said. "Being an owner is exciting. (Unlike my previous employer) this means my customers will no longer be waiting on decisions from higher up because the decisions will be made at the local company level."
"Both Ronnie and Jeremy join Winsupply with many years of expertise in the respective plumbing and HVAC industries," said Roland Gordon, president and CEO of Winsupply Inc. "Perhaps even more important is how well both of them fit within our entrepreneurial culture at Winsupply. Each wanted to own his own business and Winsupply has made those dreams a reality."
Winsupply supplier of residential and commercial construction and industrial supplies and equipment headquartered in Dayton, OH. The privately-held company has more than 580 wholesaling locations in 45 states. Collectively, Winsupply is known as "The Winsupply Family of Companies" and includes Win-branded locations, Noland Company, Carr Supply, Security Plumbing & Heating Supply, Wyatt Irrigation and Electrical Sales, Inc. In the family are companies conducting business-to-business wholesale distribution of supplies and equipment in plumbing; hydronics; pipe, valves and fittings; HVAC and refrigeration; electrical; fastening hardware; waterworks and utility; pumps; turf irrigation and landscape; and fire system fabrication.