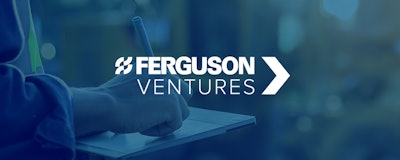 Ferguson — the world's largest distributor of plumbing and heating products — has launched a new investment and partnering firm, called Ferguson Ventures.
Zug, Switzerland-based Ferguson, which has North American headquarters in Newport News, VA, Ferguson Ventures was recently established as the corporate venture capital and strategic partnering arm of the business.
According to its website: "Ferguson Ventures invests in and partners with early through late-stage companies that are solving industry challenges, able to add value to our partners, scale across our customer base and dominate in their space. Ferguson's industry-leading position, deep expertise, national branch network, and deep customer and vendor relationships will accelerate our partners' ability to scale."
Ferguson Ventures' focus is on finding partners that can meet the needs of Ferguson customers, helping them meet the challenges of today's marketplace and be better prepared for challenges of tomorrow. Ferguson Ventures supports the following three endeavors:
Connected Ecosystems: "We seek opportunities to replace, enable, or create processes that will streamline and strengthen value chains across the industry"
Digital Experiences: "Creating a best-in-class customer experience with industry-leading content"
Emerging Technology: "Exploring and leveraging emerging technologies to enhance customer and associate experiences through Augmented/Virtual Reality, Internet of Things (IoT), Artificial Intelligence and Machine Learning"
Ferguson Ventures is led by senior manager Stephanie Vega Ziegler, vice president and managing director Kevin Barnes and director Blake Luse.