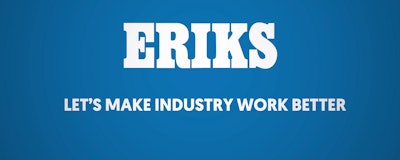 PITTSBURGH, PA — ERIKS North America has announced the opening of a new metal gasket and fastener fabrication shop at its 40,000-square-foot Chicago Service Center in Sauk Village, IL. The company also planned an open house at the location from 10 am–2 pm, on Thursday, July 26.
Located 30 miles south of Chicago, the facility features state-of-the-art equipment, as well as an experienced team of in-house fabricators and technical specialists, enabling ERIKS North America to better serve the refining, chemical, and other industries in the Midwest. The full-service gasket and fastener shop offers a range of spiral-wound gaskets; along with fabricated double jacketed, corrugated metal, and camprofile gaskets; as well as standard and custom fasteners; and specialty OEM cut parts.
Eric Rosenbrock, gasket product specialist, ERIKS North America, says the new shop will provide a number of benefits to customers who are looking for a local partner.
"ERIKS North America has experienced tremendous growth in the refinery, chemical, and other industries in recent years," Rosenbrock says. "Our products, processes, and services have provided leak-free results in tens of thousands of applications around the world for more than 15 years. Our goal is to reduce customers' total cost of ownership through longer service life, as well as reduced maintenance costs and fines for pipe-flange emissions."
Engineers and allied professionals who work in the refinery, chemical, and other industries are welcome to attend an open house at ERIKS North America's Chicago Service Center from 10 am–2 pm, on Thursday, July 26. Attendees will have opportunities to explore the company's capabilities, tour the shop, talk with product and technical specialists, and see live demonstrations.
To RSVP for the open house, call Angel Hawkins at 708-758-2931. For more information on ERIKS North America, as well as its extensive product and service offerings, visit www.ERIKSNA.com.
ERIKS North America offers a wide range of innovative, high-quality mechanical engineering components and associated technical and logistical services from 140 locations across the United States, Canada, and Mexico.
See photos of the new DC below: