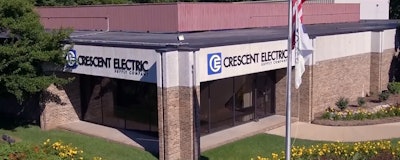 EAST DUBUQUE, IL — Crescent Electric Supply Company has announced the appointment of Steve Cavin to the position of Vice President – East Region. In his new role, Cavin will own P&L responsibility for all branches in the East Region of the national electrical distribution company.
Cavin began his career in the telecommunications industry and later moved into the industrial solutions business, where he gained significant experience in the industrial distribution arena with Barnes Distribution which was later acquired by MSC Industrial Supply.
At Barnes / MSC Steve held numerous sales leadership roles over his 13 years, with his latest role as Vice President of the Midwest Region. His responsibilities included P&L management, profitable revenue growth, employee engagement, customer retention and penetration.
Most recently Steve served as VP & General Manager for the Heavy Duty Truck division of Optimas, an OEM supplier that was spun off of Anixter in 2015 to a private equity firm. At Optimas, Steve had responsibility for designing sales structure and global program alignment with P&L responsibility.
"Steve has a proven track record of profitable sales and is a perfect fit for our culture," noted Rob Onorato, Crescent Electric Senior Vice President and Chief Operating Officer. "His experience in leading sales organizations to drive customer satisfaction and loyalty will be a valuable asset to his region and the company as a whole."
Cavin attended Augustana College in Rock Island, IL where he earned a B.A. in Finance and Political Science
Crescent Electric Supply Company is one of the eight largest electrical distribution companies in the U.S. The Company serves contractors, commercial, institutional and industrial customers with a broad line of electrical, lighting, industrial, automation and datacomm products from 160 branches nationally. In addition to the Crescent Electric brand, customers are served by Womack Electric in Virginia and North Carolina; BA Supply in Missouri; Mesco Electrical Supply in Ohio; Interstate Electric Supply in Idaho, and Stoneway Electric in Washington, Oregon and Idaho.
Crescent's industrial segment ranked No. 43 on Industrial Distribution's 2017 Big 50 List.