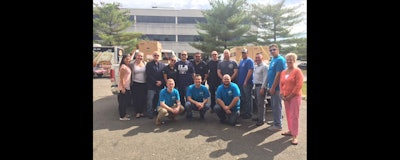 MONROE, NJ — Cooper Electric Supply's Fairfield, NJ branch location partnered with the International Longshoremen's Association (ILA) to provide generators to Puerto Rico after Hurricane Maria hit the island.
Hurricane Maria brought death and destruction when it hit Puerto Rico on Sept. 20, and weeks later, much of the island was still without power, along with massive food and water shortages. Cooper Electric worked with ILA members to pick up the generators and package everything in two 40-foot containers, which were donated by Integrated/C&C company. ILA handled the transportation of the generators, along with other donated goods, to San Juan, Puerto Rico.
"It took a lot of coordination from a lot of great organizations, Cooper Electric being one of them," said Josh Hertzberg, Director of Business Operations at ILA. "Our people in Puerto Rico were truly appreciative for the help, and all of us at the ILA genuinely appreciated your assistance in our efforts. I look forward to working together in the future, and a big thanks to Cooper Electric for their assistance in the effort."
"What the ILA association did was amazing and it left me with a sense of what humanity can accomplish when there are people in need of help," added Cooper Electric Fairfield branch manager Dean Cosentino. "We will continue the relationship and continue helping in their efforts moving forward."
Cooper Electric is a subsidiary of Sonepar USA.