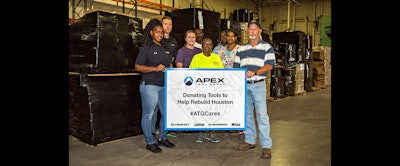 SPARKS, MD — Hand tool businesses GEARWRENCH, Crescent, Wiss and Lufkin are donating $220,000 in tools to help rebuild communities impacted by Hurricanes Harvey and Irma. In addition, parent company Apex Tool Group has donated the use of a 350,000 square foot warehouse for two months — valued at $120,000 — to disaster relief nonprofit Trusted World as a sorting and staging headquarters for Harvey donations from around the country.
On Sept. 19, thousands of demolition and construction hand tools were shipped from the company's Apex, NC distribution center to the Houston Community ToolBank, a nonprofit that is an affiliate of ToolBank USA.
"Our associates as well as our businesses are committed to building today's communities, building tomorrow's skills, and rebuilding in times of need," said Jim Roberts, CEO of Apex Tool Group. "While our own facilities were not impacted by the devastation of Hurricanes Harvey or Irma, putting our tools and resources in the hands of local nonprofits will help accelerate cleanup and restoration efforts. Our donations, combined with the efforts of many volunteers, will help restore these communities as quickly as possible. Our thoughts are with all who have been impacted by these catastrophic events."
In Houston, as soon as floodwaters receded "thousands of volunteers began using our tool inventory to clean up, repair, and rebuild neighborhoods devastated by Hurricane Harvey," said Erika Hornsey, Executive Director, Houston Community ToolBank. Apex Tool Group's donation — approximately $110,000 in tools — will "ensure that even more community groups can help residents get back on their feet from the storm's devastation."
Next week, Atlanta-based ToolBank USA will also receive an equal donation of demolition and construction tools to be used by its mobile relief efforts in communities impacted by Hurricane Irma.
"After natural disasters, we send a semi-trailer of tools and equipment to affected areas. Once on the ground, we spend weeks partnering with local qualified nonprofits and their volunteers," said ToolBank USA CEO Alan Harrison. "The need in Florida is huge, and this donation will allow us to assist people and communities we might otherwise not reach, but who need help now. We are grateful for Apex Tool Group's assistance."
Additionally, on Sept. 1, Apex Tool Group opened the doors to its 350,000 square foot currently unused warehouse in Garland, TX, allowing disaster services nonprofit Trusted World to take over the facility for a herculean "sort, store, stage and ship effort for Hurricane Harvey victims," said Michael Garrett, CEO, Trusted World. "Apex Tool Group donated the use of its space and utilities to give Trusted World one of the largest disaster staging sites in our history, now bustling with hundreds of Dallas-Fort Worth volunteers managing deliveries, inventory, and shipments bound for areas directly hit by Hurricane Harvey."