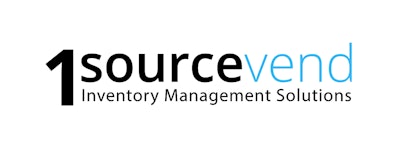 MEMPHIS, TN — 1sourcevend, a provider of simple, flexible and affordable vending machines and inventory control software, has unveiled its new website at 1sourcevend.com. The site showcases the benefits of vending to distributors and guides them through shopping for, configuring and ordering vending machines.
"In today's increasingly competitive market, industrial vending helps independent distributors of all sizes to compete on more than just price," says Mark Hill, president of 1sourcevend, "increasing productivity, decreasing their costs and improving inventory control for the customer."
1sourcevend.com illustrates how distributors can capture more business and increase customer stickiness with the company's Automated Vending Manager inventory control system. The site's "Industries"and "FAQ" pages show potential customers how vending works and offer examples of how vending can be applied in a variety of industries, including manufacturing, mining, fleet maintenance, steel mills, food and beverage and more.
On the site's "Getting Started with Vending" page, new customers are guided through the configuration, ordering and set-up process, allowing them to place machines with customers in as little as four weeks. "Our machines are so easy to install, and the software so easy to set up, that an on-site technician isn't required to get up and running. We wanted to extend that ease of use into our ordering process, giving customers the information they need to complete configuration and ordering in one phone call," says Mark Hill, 1sourcevend president.
Included with the unveiling is 1sourcevend's new blog page, which will feature vending information, inventory-control best practices and company news.