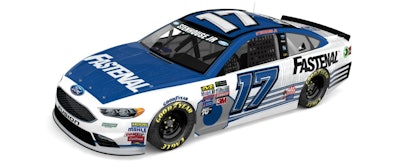 Thousands of Fastenal employees zoomed around Auto Club in Fontana, CA on Sunday, albeit decaled upon a race car.
To honor the industrial distributor's 50th anniversary and show that it takes a full team to win a race, the company's NASCAR-sponsored car — the No. 17 Ford Fusion — featured the names of every Fastenal employee in its paint scheme last week and in Sunday's Monster Energy Cup Series Auto Club 400 race.
The commemorative car — driven by two-time XFINITY series champion Ricky Stenhouse Jr. — was unveiled during Fastenal's annual Employee Industrial & Construction Expo in Orlando, FL. It also featured a 50th anniversary Fastenal logo.
"I am extremely honored to carry the names of the nearly 20,000 Fastenal employees on our car for the race at Auto Club Speedway this weekend," Stenhouse said via a Roush Fenway Racing press release on March 23. "The history of Fastenal is a story of how vision and hard work led to tremendous growth and success. I've had the privilege of meeting thousands of Fastenal employees as well as the company's founders, and they make me proud to be a part of the Fastenal team on and off the track."
Stenhouse Jr. finished 22nd in Sunday's race after running in the top 15 for the majority of it.
The commemorative car was unveiled at the annual Fastenal Employee Industrial & Construction Expo in Orlando, FL.
"Fastenal wouldn't be where it is today without the hard working people who keep driving this company forward," said Brooke Mlsna, Fastenal's vice president of marketing. "To pay tribute to that, we wanted to incorporate our entire Blue Team into our anniversary car so that, as a team, we can race around the track as we prepare to race into our next 50 years of business."
Here's a look at last week's No. 17 Ford Fusion: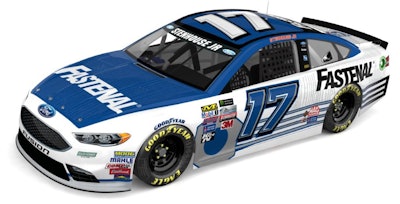 And here's a short video announcement from Stenhouse Jr. last week: