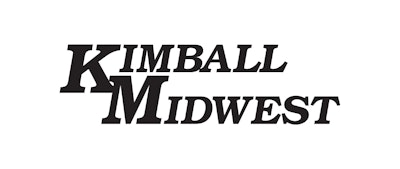 COLUMBUS, OH — In support of Big Brothers Big Sisters of Central Ohio, Kimball Midwest participated in the 34TH Annual Bowl for Kids' Sake (BFKS) event on March 4 at the Columbus Square Bowling Palace.
BFKS is the largest and most important fundraiser for Big Brothers Big Sisters of Central Ohio. Teams of five bowlers compete to raise the most money and celebrate their efforts with one hour of bowling. This year, the event raised over $435,000 for the thousands of at-risk youths in the community.
Stephanie Jasper, Company Event Coordinator, said Kimball Midwest contributed by way of raising funds and gaining participation from 63 employees and their families.
"Bowl for Kids' Sake is a direct way for employees to get involved, give back to the community, and team-build with coworkers. It makes me excited to see the growing interest with the event, because the money raised greatly impacts the youth in our very own community," said Jasper. "I think it speaks a lot to our owners' generosity to become involved with nonprofit organizations, and also to encourage employees to become involved as well. I can't wait to see how we continue to contribute in years to come."
Kimball Midwest, based in Columbus, OH and No. 40 on Industrial Distribution's Big 50 List, is a national distributor of maintenance, repair, and operations products, encourages involvement in various philanthropic events to help better the community and has remained a fixture at the BFKS event.