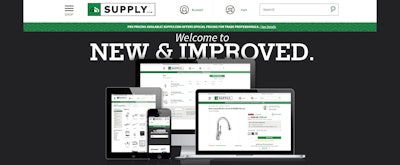 ATLANTA, GA — SUPPLY.com, an e-commerce company committed to becoming the industry's leading nationwide plumbing distributor, recently launched its redesigned, responsive website. Responsive web design allows sites to function identically across all devices — desktop, mobile and tablet.
"We recognized that trade professionals utilize multiple devices when they're shopping for plumbing products online," explained Marcus Morgan, CEO. "Appealing to our vision, we elevated the site to the standard of excellence our customers expect. We're going to continue making big steps like this to provide the award-winning customer service we're celebrated for."
"The new responsive SUPPLY.com site is the perfect combination of our pre-existing efficiencies with the best of what the new e-commerce expectations are," added Matt Hobbs, Director of User Experience. "We already had a product that took care of thousands of people every day. It was our job to complement the strengths of the existing site with updates and features to make it even stronger."
Notable features include:
Easy-to-browse catalog on a platform that works great on any device
Project management tools that allow trade professionals to connect with their rep and manage active projects
Helpful articles and resources to help trade professionals stay up to date on the latest plumbing news, products, and trends
Take the tour at: https://www.supply.com/our-website
Serving trade professionals since 2004, SUPPLY.com is a nationwide plumbing wholesaler focused on finished plumbing, rough plumbing supplies, and commercial plumbing. Headquartered just outside of Atlanta, GA, SUPPLY.com offers more than 350,000 SKUs from more than 80 of the industry's top brands.
See Supply.com's profile in Industrial Distribution's 2016 Watch List