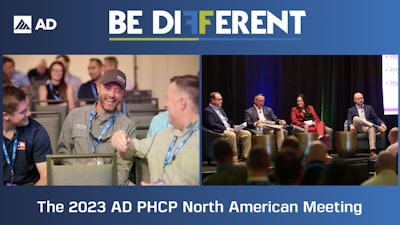 AD
PHOENIX — The 2023 AD PHCP North American Meeting – AD's largest meeting to date – included over 1,200 attendees from AD member, supplier and service provider companies for a week of networking and partnership.
The meeting featured AD's Plumbing - U.S., Pipe, Valves and Fittings (PVF), and HVAC divisions in a gathering that celebrated the AD community and encouraged growth-minded business discussions.
AD's 2023-2024 meeting season features the theme "Be Different" – a celebration of how independent distributors, supplier partners, service providers and individuals in the AD community can embrace their unique strengths to succeed in business and enrich their lives, both personally and professionally.
The meeting featured both a Joint PHCP Member Business Meeting and division-specific Member Business Meetings, where AD members learned about AD's 2023 performance and key growth initiatives for 2024 and beyond.
"The divisions that make up our PHCP Business Unit have achieved strong levels of performance in 2023 so far," said Jeffrey Beall, president of the PHCP Business Unit. "Cross-industry gatherings like our North American Meeting inspire new ideas and launch new partnerships that support growth and improvement into the future."
AD community ready to collaborate and learn
AD's Network Meetings brought together business leaders to share best practices and work through common industry issues in an environment with non-competing AD members. At each North American Meeting, Network Meetings offer valuable time for members to connect and collaborate to support each other's growth and sustainable success.
Roundtable discussions also presented opportunities for the AD community to connect with fellow leaders and talk through problems and solutions facing their businesses. These discussions covered a wide range of topics impacting sales, operations and purchasing.
"Our members always come prepared for open and honest conversations about the state of their businesses," said Justin Dunscomb, president of AD's PVF Division. "When our community comes together, new relationships form and new business partnerships are created – 'Together, We Win' at our North American Meetings."
Attendees also had access to multiple presentations to learn from industry experts sharing their insights into the state of independent distribution. Tom Noon, owner of Company Insights, and Talbot Gee, CEO of HARDI, led industry benchmarking sessions to discuss trends and forecasts for the business landscape.
Guest impact speaker Paul Zikopoulos, vice president at IBM and award-winning author, led a session about artificial intelligence, its future and potential impact on how distributors and manufacturers operate.
"From networking and roundtables to guest speakers and receptions, AD's PHCP community has access to so many learning and collaboration opportunities," said Randy Lee, president of AD's HVAC Division. "I'm excited to see what new developments come from the meeting."
Connections formed and unique strengths celebrated
"AD's formal networking sessions are some of the best moments of the meeting to branch out, meet new people and expand professional circles," said Dan Kelly, president of the Plumbing Division – U.S and Decorative Brands Division. "The relationships formed this week carry on and become drivers of new business and new support systems for the AD community."
North American Meeting attendees had access to numerous receptions during the week, including the welcome reception to kick off the meeting and the First Timers reception for those new to AD's meetings.
The AD Women's Community Network Reception brought the AD community together for a session of development and connection where attendees shared their experiences in their companies and industries. Bonnie Mason, national account manager for Viega, led the discussion with the goal of elevating women in leadership.
AD Chairman and CEO Bill Weisberg during his keynote address spoke about what it means to "Be Different" and summarized the theme of the 2023 North American Meeting.
"It can be easy to follow the crowd and stay in line," said Weisberg. "As independents, we have the opportunity to be different and take advantage of our unique strengths to support our businesses. Each company in the AD community has differences that have helped them succeed – many of them for generations – and will fuel their growth into the future."