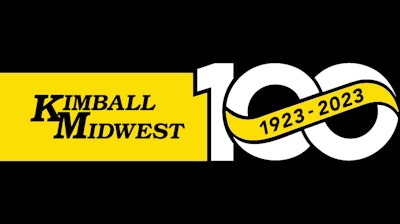 COLUMBUS, Ohio – Kimball Midwest, a national industrial supplier celebrating its centennial this year, has been named one of Central Ohio's Top Workplaces for 2023.
It is the 11th consecutive recognition for Kimball Midwest from Columbus CEO magazine.
Central Ohio employers were recognized based on associate survey results. The confidential survey measured 15 drivers of engaged cultures that are critical to the success of any organization, including alignment, execution and connection.
Kimball Midwest ranked 10th among organizations with 350 or more associates.
"Earning a Top Workplaces award is a badge of honor for companies, especially because it comes authentically from their employees," Energage CEO Eric Rubino said. "That's something to be proud of. In today's market, leaders must ensure they're allowing employees to have a voice and be heard. That's paramount. Top Workplaces do this, and it pays dividends."
Here are a few of the comments shared by Kimball Midwest associates in the anonymous survey:
"They are very flexible and always work with me. It's a great place to grow and further your career. The people I work with are great."
"I feel like management trusts my decisions and supports me in my daily work. And if I have an issue, I can always rely on my managers to help me out when needed."
"I am able to get my job done without being micromanaged. I feel as though I am trusted to get my work completed and done well. People tell me all the time what a good job I am doing, lots of positive reinforcement. The people I work with are positive and get along very well."
"This recognition is a testament to the hard work and dedication of our associates, who consistently strive to create a culture of engagement, alignment and connection," said Chris Luthy, Kimball Midwest's director of human resources. "It's an honor to work with such a talented and committed group of individuals, and we are grateful for the contributions every one of them makes to our organization."