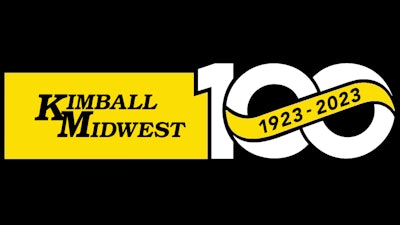 COLUMBUS, Ohio – Kimball Midwest, a national industrial supplier, is excited to celebrate its 100th anniversary in 2023.
The company plans a series of events to honor its centennial throughout 2023. Notable among them is a community campaign to celebrate the milestone in which Kimball Midwest will donate $1 million across the country. Each sales region, corporate department and distribution center will receive money for associates to donate to a qualified charity of their choosing.
The Kimball Company was founded in Cleveland, Ohio, in 1923. In 1984, it joined with Midwest Motor Supply, which had been founded in Columbus in 1933, forming Kimball Midwest.
"Reaching a centennial is something only a small percentage of companies do," Kimball Midwest CEO Pat McCurdy, Jr. said. "I couldn't be prouder of every member of the Kimball Midwest team over the years for their contributions and keeping us green and growing to reach this milestone."
From its roots as a regional automotive supplier, the company has experienced consistent growth, with sales going from $1 million in 1983 to more than $400 million in 2022.
Its presence has spread from Ohio to every corner of the contiguous United States. In 2022, Kimball Midwest opened its fifth full-service distribution center in Newtown, Connecticut, joining existing locations in Dallas, Reno, Nevada, and Savannah, Georgia, as well as the corporate headquarters in Columbus.
"Now more than ever, our entire Kimball Midwest team stands ready nationwide to help our customers build a business, and our associates a career," President Patrick McCurdy III said. "We know when we support people first, success for everyone will follow. That was true 100 years ago and is a key part of the Kimball Midwest Experience."
The McCurdy family has been leading the organization since Pat McCurdy, Sr. became one of three co-owners of Midwest Motor Supply in 1950. He became the sole owner in 1978, and the family has led the way ever since. More than a dozen members of the McCurdy family are active across the business today.
Kimball Midwest was named among the 100 largest industrial distributors in the nation in 2002. Since then, steady growth has led the company up the rankings to 30th place in 2022. That rapid growth means the company entered 2023 with more than 2,200 dedicated associates, including more than 1,300 sales team members.
The company's centennial campaign also will include team volunteering efforts and events around the country throughout the year to celebrate the milestone.
"For 100 years, America has counted on Kimball Midwest," Patrick McCurdy III said. "We're an essential partner to our customers nationwide — and a strong foundation for associates to build successful, lifelong careers. This community campaign is one way we can give back to our associates, customers and communities, which all have been essential to our growth."